Mild With Some Beneficial Rain: October 2014 Recap

Dr. David A. Robinson
New Jersey State Climatologist
Center for Environmental Prediction, School of Environmental and Biological Sciences/NJAES, Rutgers University
November 3, 2014
Overview
The tenth month of 2014 bucked the recent tendency toward dry conditions in northern New Jersey and proved to be the warmest month compared to normal since October 2013. Statewide, the October average temperature of 57.0° was 2.2° above the 1981-2010 average. This ranks as the 23rd warmest (tied with 1955) in 120 years (since records began in 1895). The average precipitation across NJ was 3.78". This is 0.15" below the mean and ranks as the 51st wettest October. Rainfall was above average in what have been some of the driest northern counties since mid summer. Still, from Mercer and Middlesex counties northward, precipitation has only been 50-75% of normal the past three months. Thus this area is still considered "abnormally dry" on the US Drought Monitor map.
Temperature
Approximately three quarters of October days experienced above-average temperatures. This included seven where maximum temperatures equaled or exceeded 75° at one or more of the 56 NJ Weather and Climate Network (NJWxNet) stations. The 1st saw Greenwich (Cumberland County) hit 75°. Hawthorne (Passaic) next reached this mark on the 3rd, while 75° was achieved on the 7th at Hawthorne, Hillsborough (Somerset), Wall (Monmouth), and Woodbine (Cape May). On the 8th, 76° was the maximum temperature at New Brunswick (Middlesex), Red Lion (Burlington), Sicklerville (Camden), and Woodbine.
The next warm spell came at mid-month. The 14th took top monthly honors and likely provided the last 80° readings of 2014. Mansfield (Burlington) reached 81°, while Cherry Hill (Camden), Hillsborough, and New Brunswick saw 80°. Warm temperatures were observed statewide, with 39 stations topping out between 75°-79°, 11 between 70°-74°, and both Harvey Cedars and High Point Monument at 69°. Every NJWxNet station reached the 70°s on the 15th, with six stations at 79° and Seaside Heights at 70°.
The last very warm day of October was the 28th, when Red Lion, Sicklerville, and Stewartsville (Warren) got to 79°. Atlantic City Marina (Atlantic) was coolest at 65°. Conditions cooled considerably to end the month, with High Point Monument only making it to 45° and remaining ocean warmth helping to keep Harvey Cedars as mild as 58°.
Speaking of ocean warmth, while almost every NJ location fell into the 20°s or 30°s on more than one morning in October, the coastal locations of Harvey Cedars (42°), Seaside Heights (41°), and Atlantic City Marina (40°) failed to fall below the 40°s. Ten October days saw one or more stations below freezing, with the growing season ending (minimum of 32° or lower) at half of the NJWxNet locations at some point during the month. Climatologically, by the end of October most stations outside of coastal and urban areas should have experienced their first freeze. Actually, Walpack (Sussex) saw the season end on September 23rd, while no other location dipped below freezing until October 5th. On that morning, Walpack was at 30° and Kingwood at 32°. The next day, Basking Ridge (Somerset) fell to 30°, Walpack to 31°, and Pequest (Warren) to 32°.
Walpack was 30° on the 10th, and on the 12th was joined by Basking Ridge and Pequest at 31°, while Hope (Warren) reached 32° for the first time. The mid-month warmth resulted in a weeklong freezing temperature hiatus. In fact, on the 15th, High Point Monument at 62° was had the coolest minimum in NJ and eleven stations only fell to 69°. Cold mornings returned on the 19th, with some locations within Pinelands of south Jersey reaching the freezing mark for the first time. This included Berkeley Township (Ocean) at 31° and Oswego Lake (Burlington) 32°. They were joined by 30° in Walpack and 32° at Kingwood. The morning of the 20th brought the first freeze of the season, which also produced the most expansive freezing temperatures of the month. Berkeley Township fell to 26°, and Kingwood and Oswego Lake to 27°. Some 25 other stations were at 28°-32°. Harvey Cedars was mildest at 43°. Increasing early morning cirrus clouds in the north kept some of the traditionally coldest valley locations from taking minimum honors.
Walpack dropped to 30° and Pequest 32° on the 25th, Walpack to 31° on the 27th, and the 30th found Walpack at 29°, Pequest 30°, and Basking Ridge and Kingwood both at 31°. Halloween morning proved to be the second coldest of the month, with the absolute coldest monthly temperature of 24° at Walpack and Pequest, 21 stations between 26°-31°, and West Cape May (Cape May) mildest at 43°.
Precipitation and storms
There was a more than 4.00" range in precipitation totals across NJ in October. Of the almost 250 Community Collaborative Rain, Hail and Snow Network (CoCoRaHS) and NJWxNet stations with enough observations to generate monthly totals, the NJWxNet station in Point Pleasant took top honors with 6.85", followed by two stations in Brick (Ocean) with 6.75" and 6.69". Three other coastal communities, Lavallette (Ocean), Sea Girt (Monmouth), and Jackson Township (Ocean), received 6.43", 6.29", and 6.06", respectively. In Morris County, Mine Hill caught 6.38" and Randolph Township 6.22". Harrison (Hudson) received 6.06". On the low end, stations in five southern counties had the six lowest totals. They include Middle Township (Cape May) at 2.61", Merchantville (Camden) 2.66", Medford Township (Burlington) 2.71", Estell Manor (Atlantic) 2.80", Egg Harbor Township (Atlantic) 2.81", and Elk Township (Gloucester) 2.88". No snowfall, even in the form of flurries, was observed anywhere in the state during October.
The first precipitation event of October that brought more than 0.50" somewhere in NJ was on the morning of the 4th. Most of northern NJ received at least 0.75", with scattered spots above an inch. This included Chester Township (Morris) with 1.37", Jefferson and Randolph townships (Morris) 1.15", Harrison and Kearny (Hudson) 1.13", and Middletown (Monmouth) 1.12". Totals tapered off as you headed south, with Wildwood Crest (Cape May) receiving only 0.10" and Sea Isle City (Cape May) 0.16".
Early morning rain, in some locations accompanied by lightning and thunder, brought close to an inch of rain to the northern Highlands on the 8th. West Milford (Passaic) totaled 1.27", while in Morris County, Rockaway, Randolph Township, and Denville caught 1.06", 0.98", and 0.97", respectively. Less than 0.50" was seen elsewhere, with the least falling in Monmouth County where Eatontown and Wall had 0.02". Winds gusted to 47 mph at Harvey Cedars and 45 mph in Bivalve (Cumberland) during this event with 15 other NJWxNet stations recording gusts between 30-39 mph.
From early morning to early afternoon on the 11th, Jackson Township received 1.25", Folsom (Atlantic) caught 0.92", and Sea Isle City and Wildwood Crest saw 0.87" and 0.86", respectively. Totals greater than 0.50" were common in the southern half of the state, with only a few tenths in the north. Ramsey (Bergen) at 0.14" and Blairstown (Warren) 0.19" received the least.
Heavy rain fell from the afternoon of the 15th into the predawn hours of the 16th. Totals were highest in the north, with two locations in Mine Hill Township receiving 2.97" and 2.44". Elsewhere, Roxbury Township (Morris) had 2.48", Mendham (Morris) 2.35", and Blairstown 2.33". Lowest totals in the south included Egg Harbor Township with 0.37" and Upper Township (Cape May) 0.40". Of the 223 CoCoRaHS reports, 17 exceeded 2.00", 131 were between 1.00"-1.99" and 75 were from 0.37"-0.99".
A complex coastal system, the first nor'easter of the season, plagued New Jersey from the 21st-23rd. Isolated severe thunderstorms during the afternoon of the 21st brought strong winds, heavy rain, hail, and a waterspout to coastal Ocean and southern coastal Monmouth counties. A quick several inches of rain brought local street flooding. Hail as large as 0.75" in diameter was reported in Brick, along with 0.25" hail observed elsewhere in Brick, Toms River (Ocean), Bayville (Ocean), and Colts Neck (Monmouth). The waterspout (see accompanying photo here) was observed off of Seaside Heights. An isolated storm further north brought 0.25" hail to Jefferson Township.
The core of the nor'easter occurred throughout the 22nd, before tapering off to wrap around showers on the 23rd. Thunder was heard in a number of locations during the morning of the 22nd. The heaviest rain fell along the northern coast, including some areas that were doused the previous afternoon. Winds along the coast gusted to 51 mph at Harvey Cedars, 42 mph in Seaside Heights, and 40 mph at Sea Girt. Impressive totals for the multi-day event included 4.44" at Point Pleasant, 4.36" at Lavallette, 4.05" and 3.62" at two Brick stations, and 3.67" in Berkeley (Figure 1). Eleven stations received more than 3.00", 18 between 2.00"-2.99", and 62 from 1.00"-1.99". The least was observed at Bivalve with 0.21" and Greenwich Township (Warren) with 0.26".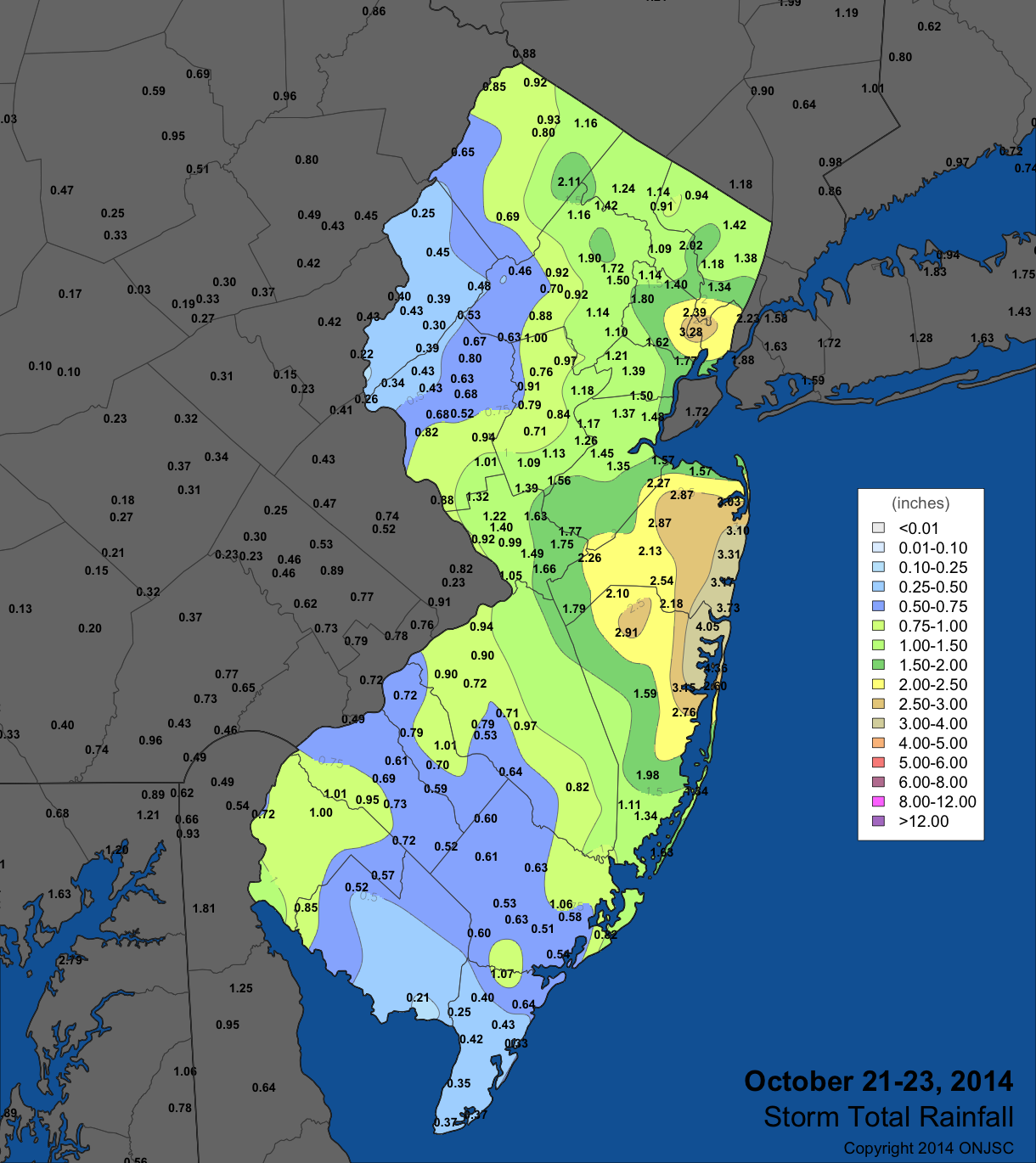 Figure 1. October 21-23 rainfall totals from CoCoRaHS and National Weather Service (NWS) Cooperative observers, and automated gauges in the NJWxNet and the NWS ASOS network. For larger view, click here.
In addition to the greater than 40 mph wind gusts on the 8th and 22nd mentioned above, three other October days saw winds of this magnitude. High Point Monument gusted to 51 mph on the 19th, along with a 42 mph gust at Wantage (Sussex) and 14 stations gusting from 30-39 mph. Wantage gusted to 52 on the 24th, with High Point Monument up to 43 mph. The Monument anemometer reached 45 mph on the 26th.
The lowest surface barometric pressure of the month was on the 4th, when barometers read close to 29.50". The maximum was close to 30.35" on the 13th.
For those seeking more detailed information on hourly, daily and monthly conditions, please visit the following Office of the NJ State Climatologist's websites:

NJ Weather and Climate Network
NJ Community Collaborative Rain, Hail and Snow Network
NJ Snow Event Reports
Interested in receiving our monthly summaries at the end of each month? Send us your e-mail address here to join the mailing list.
Past News Stories