Latest from the NJWxNet
Latest temperatures across NJ appear in the above map. Click on the map or here, the New Jersey Weather Network, for much more information.
Interested in becoming a volunteer weather observer? Click here to learn more about the CoCoRaHS Network!
Featured Products
This state summary was produced to meet a demand for state-level information in the wake of the Third U.S. National Climate Assessment. The summary covers assessment topics directly related to NOAA's mission, specifically historical climate variations and trends, future climate model projections of climate conditions during the 21st century, and past and future conditions of sea level and coastal flooding.
Click on the above link to view a list of publications that focus on the weather and climate of a particular state or region. Included are 164 references for 42 states! The earliest is from 1847.
Examine a century's worth of weather observations from locations around the state.
Frequently Updated Climate Data
Latest News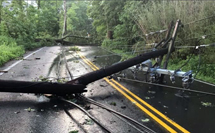 Power lines and poles litter a road in Holmdel Township (Monmouth County) following strong winds from a storm on July 22. Photo from the Holmdel Township Police Department.
Mother Nature Picking on Two NJ Communities!: July 2019 Recap
Dr. David A. Robinson
August 4, 2019
With 565 incorporated communities in New Jersey, one would think that the odds of multiple significant weather events specific to any one of them within a month would be exceedingly rare. Yet July 2019 brought such a duel scenario to not one but two NJ townships. Mt. Laurel (Burlington County) was visited by two tornadoes, while one rain gauge in Stafford Township (Ocean) caught 5.00" in two separate 24 hour periods. More specifics are provided later in this report. The good news is that, despite damage occurring in each of the four events, there were no fatalities nor reported injuries.
The month as a whole was a wet one, averaging 6.15" across the state. This is 1.58" above the 1981–2010 mean and ranks as the 20th wettest since 1895. Northern counties were wettest, averaging 7.20" or some 2.45" above normal and ranking 16th wettest. The south averaged 5.61", which is 1.12" above normal and ranks 29th wettest.
More...
Past News Stories
Sandy Storm Overview