Latest from the NJWxNet
Latest temperatures across NJ appear in the above map. Click on the map or here, the New Jersey Weather and Climate Network, for much more information.
Interested in becoming a volunteer weather observer? Click here to learn more about the CoCoRaHS Network!
Featured Products
The Rutgers Climate Institute's inaugural report on the State of the Climate in New Jersey, which highlights information related to temperature, precipitation, and sea level rise for the state.
Click on the above link to view a list of publications that focus on the weather and climate of a particular state or region. Included are 164 references for 42 states! The earliest is from 1847.
Examine a century's worth of weather observations from locations around the state.
Frequently Updated Climate Data
Latest News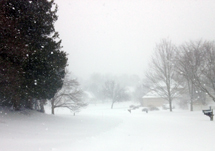 Snow in Hillsborough (Somerset County) on the morning of January 23rd.
A Winter Sampler: January 2016 Recap
Dr. David A. Robinson
New Jersey State Climatologist
February 8, 2016
While average monthly temperature and precipitation (rain and melted snow) did not vary much from their long term averages, January 2016 certainly had enough of a potpourri of atmospheric conditions to satisfy (or displease) most anyone in the Garden State. Temperatures ranged from 67° to -2°, a storm deposited as much as 2.35" of rain, and a blizzard dumped record-breaking snow in several locations and caused moderate to major flooding, especially in south Jersey coastal communities.
The statewide monthly average temperature of 31.1° was 0.1° below the 1981–2010 normal and ranked as the 66th coldest since 1895. The temperature averaged 16.7° colder than the record-shattering December 2015 warmth. This is not a record for a December to January swing in temperature, nor for several other monthly pairs too, however it ranks among the largest. Precipitation averaged 3.65", which is 0.17" above normal and 44th wettest. Statewide snowfall averaged 20.0". This was 12.1" above normal and ranks as the 7th highest since 1895 and the largest since the record 23.1" total in 2011. The north received 20.4", which is 11.1" above normal and ranks 13th largest for January, 23.1" (+15.3") fell in central NJ, ranking 5th greatest for the month, and the south averaged 18.2" (+12.5") tied for the 4th highest January total.
More...
Past News Stories
Sandy Storm Overview