Latest from the NJWxNet
Latest temperatures across NJ appear in the above map. Click on the map or here, the New Jersey Weather and Climate Network, for much more information.
Interested in becoming a volunteer weather observer? Click here to learn more about the CoCoRaHS Network!
Featured Products
The Rutgers Climate Institute's inaugural report on the State of the Climate in New Jersey, which highlights information related to temperature, precipitation, and sea level rise for the state.
Click on the above link to view a list of publications that focus on the weather and climate of a particular state or region. Included are 164 references for 42 states! The earliest is from 1847.
Examine a century's worth of weather observations from locations around the state.
Frequently Updated Climate Data
Latest News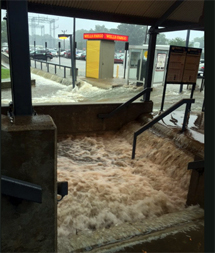 Rushing water floods parts of the Princeton Junction rail station on July 30 (photo by Michael Mancuso/NJ.com).
A Return to Hot Julys After a Two-Year Respite; Awfully Wet Too: July 2016 Recap
Dr. David A. Robinson
New Jersey State Climatologist
August 3, 2016
The second half of the 2016 NJ weather and climate year began with plenty to talk about. Maximum temperatures were 90° or higher somewhere in the state on 20 afternoons. This, along with many warm nights, helped boost the mean monthly temperature into the top 10 (9th warmest), based on statewide records back to 1895. Yet, remarkably, this was only NJ's 5th warmest July in the past 11 years. The 77.2° mean was 2.2° above the 1981–2010 average.
On 15 July days an inch or more of rain fell somewhere in NJ. This included eight days with greater than 2" in spots and four days where a few locations exceeded 4". Statewide, the average rainfall was 6.85". This was 2.33" above average and ranks as the 14th wettest July since 1895. It was the wettest July since 2004, and the 4th wettest in the past 41 years. The northern half of the state (Mercer/Somerset/Union northward) averaged 7.27" (+2.49", 14th wettest), while the southern region averaged 6.77" (+2.38", 12th wettest). This all came in a month where the northern half of the state remained classified as being in moderate drought (D1) on the US Drought Monitor, with about half of south Jersey considered abnormally dry (D0). Also, on July 26th the NJ Department of Environmental Protection placed the northern half of the state in a drought watch. These actions were the result of notable rainfall deficits dating back to the early spring, with the warmth of the month exasperating low soil moisture, stream flow, ground water, and reservoir conditions. Clearly, the late-month heavy rainfall in a good portion of the state warrants a re-evaluation of drought status as NJ heads into August.
More...
Past News Stories
Sandy Storm Overview