Latest from the NJWxNet
Latest temperatures across NJ appear in the above map. Click on the map or here, the New Jersey Weather and Climate Network, for much more information.
Interested in becoming a volunteer weather observer? Click here to learn more about the CoCoRaHS Network!
Featured Products
The Rutgers Climate Institute's inaugural report on the State of the Climate in New Jersey, which highlights information related to temperature, precipitation, and sea level rise for the state.
Click on the above link to view a list of publications that focus on the weather and climate of a particular state or region. Included are 164 references for 42 states! The earliest is from 1847.
Examine a century's worth of weather observations from locations around the state.
Frequently Updated Climate Data
Latest News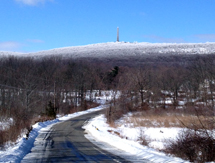 High Point Monument rising above snow and rime-covered trees on February 10. Photo courtesy of Nick Stefano.
Bitter Cold: February 2015 Recap and Winter 2014-2015 Review
Dr. David A. Robinson
New Jersey State Climatologist
March 6, 2015
It will come as no surprise to those reading this report that February 2015 was one of the coldest months on record in the Garden State. The average temperature of 22.0° (11.8° below average) made this month the 3rd coldest February and 6th coldest (tied) of any month since statewide records commenced in 1895. Colder Januaries include 1918 (19.9°), 1977 (20.2°), and 1912 (21.9°), with 1940 equal to this past February.
Statewide, melted snow, ice, freezing rain, and plain rain amounted to 2.34". This was 0.52" below average and ranks as the 32nd driest February. There were five events where snow fell to a depth of 2" or more at one or more locations, however there was no statewide "blockbuster" storm. NJ February snowfall averaged 12.3", which is 4.2" above normal. The northern third of the state averaged 16.3" (+6.2"), central area 12.6" (+3.6"), and southern third 10.1" (+3.5"). The ground remained snow covered throughout the month in northern and central regions, consistently at a depth exceeding 10" in the north and closer to 5" in central areas.
More...
Past News Stories
Sandy Storm Overview