Latest from the NJWxNet
Latest temperatures across NJ appear in the above map. Click on the map or here, the New Jersey Weather and Climate Network, for much more information.
Interested in becoming a volunteer weather observer? Click here to learn more about the CoCoRaHS Network!
Featured Products
The Rutgers Climate Institute's inaugural report on the State of the Climate in New Jersey, which highlights information related to temperature, precipitation, and sea level rise for the state.
Click on the above link to view a list of publications that focus on the weather and climate of a particular state or region. Included are 164 references for 42 states! The earliest is from 1847.
Examine a century's worth of weather observations from locations around the state.
Frequently Updated Climate Data
Latest News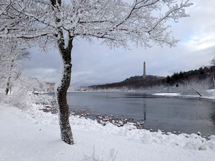 A snowy scene at High Point Monument (Sussex County) on November 20 after a 6.5" snowfall (photo by Shawn Viggiano).
Gradual Seasonal Transition: November 2016 and Fall 2016 Recaps
Dr. David A. Robinson
New Jersey State Climatologist
December 7, 2016
Much like the entire fall season, the transition into the cold half of the year was in no great hurry in November. Leaves dropped from ten days to two weeks later than normal, but eventually by the 28th the temperature fell to the freezing mark at West Cape May (Cape May County) and Newark Airport (Essex), these being the last locations in the state to experience their first freeze. A major exception to the slowly-transitioning pattern was the moderate high-elevation snowfall the weekend before Thanksgiving.
Drought conditions continued to be worrisome across the state, even spreading southwards. However, back-to-back heavy rainfall events on the 29th and 30th provided some replenishment to thirsty soils and began adding water to surface reservoirs across central and northern counties. It will be interesting to see if the atmospheric pattern change that delivered the late-month soakings is fleeting or will be longer lasting. Monthly precipitation (rain and melted snow) averaged 2.48" across NJ. This is 1.13" below the 1981–2010 average and is the 43rd driest November since 1895. It is worth noting that most of the National Weather Service stations that go into determining this average report in the morning. Thus the rain that fell later on the 30th is not factored into the monthly average; rather, it will be part of the December total. Snowfall averaged 0.4" for NJ but broken into regions amounted to 1.3" in the north, 0.1" central, and 0" south. The statewide total is average for Novembers between 1981–2010 but 0.7" below the 1894–present average.
Despite a few cold spells, the average statewide November temperature of 46.8° was 1.6° above normal. This ranks as the 17th mildest November of the past 122 years.
More...
Past News Stories
Sandy Storm Overview