Latest from the NJWxNet
Latest temperatures across NJ appear in the above map. Click on the map or here, the New Jersey Weather and Climate Network, for much more information.
Interested in becoming a volunteer weather observer? Click here to learn more about the CoCoRaHS Network!
Featured Products
The Rutgers Climate Institute's inaugural report on the State of the Climate in New Jersey, which highlights information related to temperature, precipitation, and sea level rise for the state.
Click on the above link to view a list of publications that focus on the weather and climate of a particular state or region. Included are 164 references for 42 states! The earliest is from 1847.
Examine a century's worth of weather observations from locations around the state.
Frequently Updated Climate Data
Latest News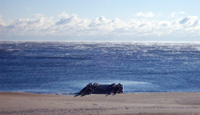 Sea Smoke rises from the relatively warm water off Sea Girt (Monmouth County) on a 10 degree January 8th morning. Photo courtesy of Jay Amberg.
Wooly and a Bit Wild: January 2015 Recap
Dr. David A. Robinson
New Jersey State Climatologist
February 6, 2015
The first month of 2015 was a cold one with above-average precipitation. The form of the precipitation varied quite a bit at any location as well as across the state over the course of individual events. The statewide average temperature of 27.7° was 3.5° below normal, making it the 32nd coldest January since records commenced in 1895. Precipitation (rain and melted snow) averaged 4.78", which is 1.30" above normal and ranks as the 20th wettest January. Statewide, snowfall averaged 8.6", which is 1.5" above normal and ranks as the 41st snowiest January of the past 121 years. Storms of various intensities arrived every three days throughout the month, and included an impactful freezing rain and flooding event and two moderate snowstorms during the final two weeks. Several bitter cold episodes were punctuated by strong winds and frigid wind chills.
More...
Past News Stories
Sandy Storm Overview