Latest from the NJWxNet
Latest temperatures across NJ appear in the above map. Click on the map or here, the New Jersey Weather and Climate Network, for much more information.
Interested in becoming a volunteer weather observer? Click here to learn more about the CoCoRaHS Network!
Featured Products
The Rutgers Climate Institute's inaugural report on the State of the Climate in New Jersey, which highlights information related to temperature, precipitation, and sea level rise for the state.
Click on the above link to view a list of publications that focus on the weather and climate of a particular state or region. Included are 164 references for 42 states! The earliest is from 1847.
Examine a century's worth of weather observations from locations around the state.
Frequently Updated Climate Data
Latest News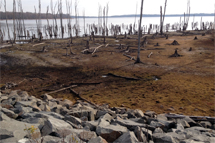 The Manasquan Reservoir in Howell (Monmouth County) on November 15, showing reservoir levels dropping below seasonal norms. Photo by Todd Bates.
Encroaching Drought?: November and Fall 2013 Summary
Dr. David A. Robinson
December 1, 2013
The first statewide nor'easter of the season on the 26th-27th provided much needed rainfall and kept the month from becoming one of the driest on record. Storm specifics are found below, confirming that this event accounted for the bulk of the statewide monthly average of 2.83" and at least temporarily staved off worsening drought conditions. This was 0.81" below the 1981-2010 normal and ranked as the 52nd driest of the past 119 years. Temperatures seesawed a fair bit but overall, colder than average conditions prevailed for the second consecutive November. The statewide average of 43.0° was 2.6° below normal and tied with 1906, 1919, 1940 and 1986 as the 36th coolest on record. Rather frequent frontal passages resulted in winds gusting to 40 mph or greater on twelve November days.
Six November afternoons had one or more stations within the 54 station NJ Weather and Climate Network reach at least 65°. The 1st was the month's warmest day, with Hawthorne (Passaic County) and Mansfield (Burlington) topping out at 72°. Some 31 other stations reached 70° or 71°, with a balanced thermal environment across NJ finding High Point Monument (Sussex) and Seaside Heights (Ocean) the coolest locations at 64°. Seven stations reached 71° on the 2nd, perhaps the last 70° day of 2013. Cherry Hill (Camden) got to 69° on the 6th, and the Monmouth County communities of Oceanport and Howell reached 65° on the 7th. On the 10th Sicklerville (Camden) was 65° and Cherry Hill, Piney Hollow (Gloucester), and Clayton (Gloucester) were 69° on the 17th.
More...
Past Climate Summaries
Sandy Storm Overview