Latest from the NJWxNet
Latest temperatures across NJ appear in the above map. Click on the map or here, the New Jersey Weather and Climate Network, for much more information.
Interested in becoming a volunteer weather observer? Click here to learn more about the CoCoRaHS Network!
Featured Products
The Rutgers Climate Institute's inaugural report on the State of the Climate in New Jersey, which highlights information related to temperature, precipitation, and sea level rise for the state.
Click on the above link to view a list of publications that focus on the weather and climate of a particular state or region. Included are 164 references for 42 states! The earliest is from 1847.
Examine a century's worth of weather observations from locations around the state.
Frequently Updated Climate Data
Latest News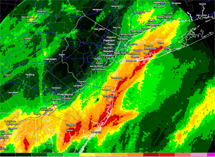 Radar estimate of storm precipitation. Areas in yellow are estimated to have received 2.00-2.49", grading to the deepest red (5.00"-5.99") and then in 2.00" increments further toward the center of the narrow path. (RadarScope image)
Mid-Atlantic Deluge
Dr. David A. Robinson
August 13, 2014
Extremely heavy rain drenched portions of the Mid-Atlantic during the daytime hours on August 12 until after sunrise on the 13th. Starting off in the Washington-Baltimore area and moving up into central Long Island, a narrow ribbon of rainfall exceeding 5", and over 10" in a few locales, resulted in flash flooding that resulted in water rescues and many damaged roads and vehicles. Excessively heavy rains, occasionally accompanied by lightning, traveled up a frontal boundary that was associated with an unusually strong August low-pressure system situated over the Great Lakes. The atmospheric impulses riding up this front joined forces with abundant atmospheric moisture (in the top 1% for the region) to bring multiple inches per hour rainfall rates…for multiple hours.
More...
Past Climate Summaries
Sandy Storm Overview