Latest from the NJWxNet
Latest temperatures across NJ appear in the above map. Click on the map or here, the New Jersey Weather and Climate Network, for much more information.
Interested in becoming a volunteer weather observer? Click here to learn more about the CoCoRaHS Network!
Featured Products
The Rutgers Climate Institute's inaugural report on the State of the Climate in New Jersey, which highlights information related to temperature, precipitation, and sea level rise for the state.
Click on the above link to view a list of publications that focus on the weather and climate of a particular state or region. Included are 164 references for 42 states! The earliest is from 1847.
Examine a century's worth of weather observations from locations around the state.
Frequently Updated Climate Data
Latest News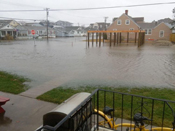 Coastal flooding in Manasquan (Monmouth County) as a result of the December 9th nor'easter. Photo by Denise Casagrande (
@Free_DennyGurl
).
A Dreary Month: December 2014 Recap
Shades of Years Past: 2014 Summary
Dr. David A. Robinson
New Jersey State Climatologist
January 5, 2015
Clouds prevailed in this darkest month of the year, making for some rather persistent dreary conditions. Until the last week of the month there were only two days (the 4th and 7th) where the sun outperformed the clouds across NJ. At least the year ended on a bright note, with lots of sun during five of the last six days. With the clouds came a fair amount of precipitation, and given milder-than-normal conditions, the vast majority was in the form of rain. Statewide precipitation averaged 4.79". This is 0.88" above the 1981–2010 mean and ranks as the 27th wettest December since 1895. The mean temperature of 38.9° was 3.3° above average and ranked as the 15th warmest on record. Snowfall averaged 0.6", some 3.5" below average and ranked as the 19th least snowy December. A strong nor'easter brought strong winds, multiple inches of rain, minor to moderate coastal flooding, and beach erosion on the 9th.
More...
Past News Stories
Sandy Storm Overview