Latest from the NJWxNet
Latest temperatures across NJ appear in the above map. Click on the map or here, the New Jersey Weather and Climate Network, for much more information.
Interested in becoming a volunteer weather observer? Click here to learn more about the CoCoRaHS Network!
Featured Products
This state summary was produced to meet a demand for state-level information in the wake of the Third U.S. National Climate Assessment. The summary covers assessment topics directly related to NOAA's mission, specifically historical climate variations and trends, future climate model projections of climate conditions during the 21st century, and past and future conditions of sea level and coastal flooding.
Click on the above link to view a list of publications that focus on the weather and climate of a particular state or region. Included are 164 references for 42 states! The earliest is from 1847.
Examine a century's worth of weather observations from locations around the state.
Frequently Updated Climate Data
Latest News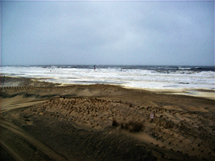 Large waves crashing along the beach in Sea Girt (Monmouth County) on January 23rd. The storm's gale force winds caused considerable beach erosion and some minor to moderate coastal flooding up and down the coast (photo by Jay Amberg).
The Weather Would Not Sit Still: January 2017 Recap
Dr. David A. Robinson
New Jersey State Climatologist
February 6, 2017
A progressive weather pattern dating back to last fall continued to hold serve across the eastern US in January. This resulted in temperatures swinging between mild and cold levels and unsettled weather systems moving through often enough to bring precipitation levels close to average but, with one notable exception, not staying around too long to wreak havoc. Overall, it was a mild month, with a statewide average temperature of 36.2°, which is 5.5° above the 1981–2010 mean. This ranks as the 12th mildest January since 1895. It is interesting to note that while 10 of New Jersey's warmest 15 years have occurred since 2000 and 14 of 15 since 1990, Januaries have not as often kicked off these warm years as much as one might imagine. Only 5 of the 15 mildest Januaries over the 123 year record have occurred since 2000 and just 8 of the 15 mildest since 1990.
More...
Past News Stories
Sandy Storm Overview