Latest from the NJWxNet
Latest temperatures across NJ appear in the above map. Click on the map or here, the New Jersey Weather and Climate Network, for much more information.
Interested in becoming a volunteer weather observer? Click here to learn more about the CoCoRaHS Network!
Featured Products
The Rutgers Climate Institute's inaugural report on the State of the Climate in New Jersey, which highlights information related to temperature, precipitation, and sea level rise for the state.
Click on the above link to view a list of publications that focus on the weather and climate of a particular state or region. Included are 164 references for 42 states! The earliest is from 1847.
Examine a century's worth of weather observations from locations around the state.
Frequently Updated Climate Data
Latest News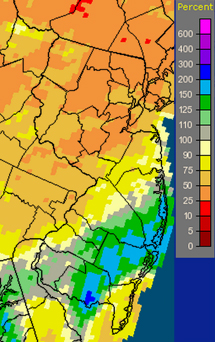 Increasingly Dry in the North: September 2014 Recap
Dr. David A. Robinson
New Jersey State Climatologist
October 4, 2014
Combined with below-average precipitation in August, the northern half of New Jersey has become quite dry. Conversely, rainfall has been more common in the south, thus despite a drier-than-average September, the two-month total is slightly above average. Looking first at September, statewide precipitation averaged 2.82". This is 1.25" below the 1981-2010 average and ranks as the 46th driest September since 1895. From Hunterdon, Somerset, and Union counties northward, only 1.49" fell, which is 3.00" below average and ranks as 7th driest. The southern counties averaged 3.47", which is 0.40" below average and ranks as 56th wettest.
September was above average in the temperature department. The mean of 67.0° was 0.8° above the 1981-2010 average and ranked as the 29th warmest on record (tied with 2 other months). It reversed the pattern of the last two months. Thus far, only May has had a warmer anomaly in 2014.
More...
Past News Stories
Sandy Storm Overview