Latest from the NJWxNet
Latest temperatures across NJ appear in the above map. Click on the map or here, the New Jersey Weather and Climate Network, for much more information.
Interested in becoming a volunteer weather observer? Click here to learn more about the CoCoRaHS Network!
Featured Products
The Rutgers Climate Institute's inaugural report on the State of the Climate in New Jersey, which highlights information related to temperature, precipitation, and sea level rise for the state.
Click on the above link to view a list of publications that focus on the weather and climate of a particular state or region. Included are 164 references for 42 states! The earliest is from 1847.
Examine a century's worth of weather observations from locations around the state.
Frequently Updated Climate Data
Latest News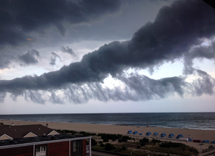 Roll cloud ahead of squall line in Cape May on the evening of June 23rd, where climatologists from 40 states were gathered for the 40th Annual Meeting of the American Association of State Climatologists. Photo by Missy Holzer.
Drought? What Drought?
June 2015 Recap
Dr. David A. Robinson
New Jersey State Climatologist
July 4, 2015
Toward the end of May, the threat of a significant drought loomed over the Garden State, as May proved to be the 3rd driest on record. Crops were in bad shape or not growing at all, and reservoir levels were declining at a faster than seasonal rate. However, New Jersey had yet to reach the point where average and timely rainfall could not remedy the situation. Not only was this prescription filled, it was done in abundance. June rainfall averaged 8.21" across NJ. This was 4.19" above the 1981-2010 normal and ranked 4th wettest since 1895 (Table 1). It joined four other Junes in the past 13 years to rank in the top eight over this 121-year period. As explained in last month's report, the rains that fell during the daytime and evening hours of May 31st factored into the June total, much as the localized afternoon and evening rains on June 30th (discussed below) will count toward the July total.
The statewide average June temperature of 70.6° was 0.5° above the 1981–2010 normal. This ranked as the 30th warmest June since 1895. On eight afternoons a weather station observed a temperature between 90°–95°, with the 11th–16th the warmest interval.
More...
Past News Stories
Sandy Storm Overview