Latest from the NJWxNet
Latest temperatures across NJ appear in the above map. Click on the map or here, the New Jersey Weather and Climate Network, for much more information.
Interested in becoming a volunteer weather observer? Click here to learn more about the CoCoRaHS Network!
Featured Products
The Rutgers Climate Institute's inaugural report on the State of the Climate in New Jersey, which highlights information related to temperature, precipitation, and sea level rise for the state.
Click on the above link to view a list of publications that focus on the weather and climate of a particular state or region. Included are 164 references for 42 states! The earliest is from 1847.
Examine a century's worth of weather observations from locations around the state.
Frequently Updated Climate Data
Latest News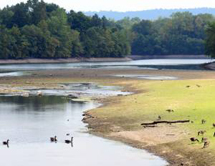 Water levels in the Oradell Reservoir (Bergen County) have been dropping steadily, leading to requests for voluntary water conservation (Photo by
Tariq Zehawi/North Jersey Media Group
).
Consistently Warm and a Mixed Distribution of Precipitation
August & Summer 2015 Recaps
Dr. David A. Robinson
New Jersey State Climatologist
September 2, 2015
This month had quite a variety of weather conditions around the state. This resulted in some areas experiencing flash flooding and others encroaching drought conditions. Damage resulted from the flooding and one storm even produced a nocturnal "heat burst." Some minor brush fires and declining river, ground water, and reservoir levels accompanied subnormal rain totals. The dry conditions helped produce some wide daily swings from cool nighttime temperatures to consistently warm daytime maximums. Preliminary values show August 2015 to have a statewide average rainfall of 2.18". This is 2.03" below normal and ranks as the 13th driest since statewide records commenced in 1895. The 74.5° average temperature was 1.1° above the 1981–2010 mean and ranks 21st warmest.
More...
Past News Stories
Sandy Storm Overview