Latest from the NJWxNet
Latest temperatures across NJ appear in the above map. Click on the map or here, the New Jersey Weather and Climate Network, for much more information.
Interested in becoming a volunteer weather observer? Click here to learn more about the CoCoRaHS Network!
Featured Products
The Rutgers Climate Institute's inaugural report on the State of the Climate in New Jersey, which highlights information related to temperature, precipitation, and sea level rise for the state.
Click on the above link to view a list of publications that focus on the weather and climate of a particular state or region. Included are 164 references for 42 states! The earliest is from 1847.
Examine a century's worth of weather observations from locations around the state.
Frequently Updated Climate Data
Latest News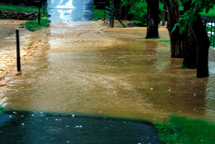 Flash flooding in Stewartsville (Warren County) on June 13. Photo courtesy of Dave Dabour
On the Mild and Dry Side: June 2014 Summary and Mid-Year Recap
Dr. David A. Robinson
July 4, 2014
The statewide average temperature in June was 70.6°. This is 0.5° above normal and ranks as the 29th warmest since 1895. More than a few people may be inclined to think the month was cooler than average. This might be due to the absence of an extended hot spell, the thermometer remaining below 90° over most of the northern third of the state, or a continued reaction to the earlier cold start of 2014 (more on this later).
June precipitation averaged 3.15", which is 0.87" below normal and ranks as the 47th driest. As expected during a warm-season month, rainfall was quite variable around NJ, ranging from 6.49" in Denville (Morris County) to 0.38" in Sea Isle City (Cape May).
More...
Past Climate Summaries
Sandy Storm Overview