Latest from the NJWxNet
Latest temperatures across NJ appear in the above map. Click on the map or here, the New Jersey Weather and Climate Network, for much more information.
Interested in becoming a volunteer weather observer? Click here to learn more about the CoCoRaHS Network!
Featured Products
The Rutgers Climate Institute's inaugural report on the State of the Climate in New Jersey, which highlights information related to temperature, precipitation, and sea level rise for the state.
Click on the above link to view a list of publications that focus on the weather and climate of a particular state or region. Included are 164 references for 42 states! The earliest is from 1847.
Examine a century's worth of weather observations from locations around the state.
Frequently Updated Climate Data
Latest News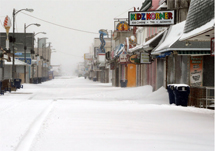 Snow along the Wildwood Boardwalk on March 17th, where upwards of 11" fell. Photo by Dale Gerhard/Press of AC.
Winter refuses to relinquish its grip on the Garden State: March 2014 Summary
Dr. David A. Robinson
April 5, 2014
One of the most disruptive winters in recent memory continued to deliver cold weather throughout New Jersey during March. Three snow events brought over 20" of snow to Cape May County, yet failed to bring more than flurries to northern counties. The statewide average monthly temperature of 35.3° was 5.8° below normal. Thus March ranked as the 11th coldest since statewide records commenced in 1895 (Table 1). Rain and melted snow for the month averaged 4.11". This is 0.12" below normal and ranks as the 55th wettest of the past 120 Marches. Aside from the southern snows, the bulk of the precipitation fell in a soaking storm at month's end.
The enduring winter chill resulted in a December through March average statewide temperature of 31.9° (3.5° below the 1981-2010 normal 2.3°, below the 1895-2014 normal) ranking as the 20th coolest on record. Even more impressive is the 30.4° January-March average, which is the 10th coldest start of a year on record and the coldest since 1978, and before that, 1940 (Table 2). The 12 months ending with March is the coolest such interval (52.2°) since February 2003 – January 2004. However 47% of the 12-month intervals since 1895 have averaged cooler.
More...
Past Climate Summaries
Sandy Storm Overview