Latest from the NJWxNet
Latest temperatures across NJ appear in the above map. Click on the map or here, the New Jersey Weather and Climate Network, for much more information.
Interested in becoming a volunteer weather observer? Click here to learn more about the CoCoRaHS Network!
Featured Products
The Rutgers Climate Institute's inaugural report on the State of the Climate in New Jersey, which highlights information related to temperature, precipitation, and sea level rise for the state.
Click on the above link to view a list of publications that focus on the weather and climate of a particular state or region. Included are 164 references for 42 states! The earliest is from 1847.
Examine a century's worth of weather observations from locations around the state.
Frequently Updated Climate Data
Latest News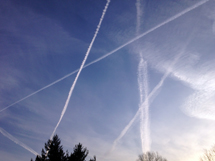 Whispy cirrus and contrails paint the sky in Piscataway (Middlesex County) early in the morning on April 6th. Photo by Dave Robinson.
Spring Arrives and Remains: April 2015 Recap
Dr. David A. Robinson
New Jersey State Climatologist
May 4, 2015
Complaints are often brought to the Office of the State Climatologist that in recent years the weather in New Jersey has quickly transitioned from winter to summer, thus leaving little time for spring weather. Of course perceptions can be deceiving, as transitional months such as April typically have widely varying weather. At least for April 2015 no protests of a missing spring are warranted, as temperatures reached into the 60°s and 70°s for several days in each week of the month, yet minimums were at times in the 20°s and 30°s throughout April. There was only one major rainfall event, but there were occasional showers. A summer-like squall roared through the state late afternoon on the 22nd, followed the next day by daytime snow flurries. Now that is spring weather!
April was a rather dry month, with statewide precipitation averaging 2.74". This is 1.32" below the 1981-2010 average and ranks as the 32nd driest April since 1895 (121 years). The average temperature of 51.5° was 0.3° above average and is tied with 1958 and 1973 as the 36th mildest. An almost statewide freeze on the 25th did not appear to do much, if any, damage to emerging vegetation. Overall, the slow emergence of vegetation following the cold March jumped ahead to near-normal timing during a warm mid-month week, only to slow again during the cool last week of April.
More...
Past News Stories
Sandy Storm Overview