Latest from the NJWxNet
Latest temperatures across NJ appear in the above map. Click on the map or here, the New Jersey Weather and Climate Network, for much more information.
Interested in becoming a volunteer weather observer? Click here to learn more about the CoCoRaHS Network!
Featured Products
The Rutgers Climate Institute's inaugural report on the State of the Climate in New Jersey, which highlights information related to temperature, precipitation, and sea level rise for the state.
Click on the above link to view a list of publications that focus on the weather and climate of a particular state or region. Included are 164 references for 42 states! The earliest is from 1847.
Examine a century's worth of weather observations from locations around the state.
Frequently Updated Climate Data
Latest News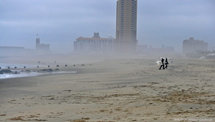 Surfers and other beach goers on Christmas day near Asbury Park (Monmouth County). Photo by Robyn Gerbush.
Baked December 2015 and Annual Summary, Including the Top 10 Events of 2015
Dr. David A. Robinson
New Jersey State Climatologist
January 3, 2016
New Jersey residents will long remember the last month of 2015 as one where the grass remained green, weeds grew, and a few blossoms were seen on trees and shrubs. In fact, with an average temperature of 47.8°, it was the mildest December on record by a wide margin based on records dating back to 1895. Five of the 6 mildest Decembers have occurred since 2001. The anomaly of +12.2° exceeds the +11.0° value in January 1932 as the largest positive anomaly of any month on record. The 5.6° difference between this December's average and the second mildest in 2006 is by far the largest difference between first and second warmest values of any month. The second largest margin is 2.3° between October 2007 and 1971. With 121 years of records, the difference between one ranking and the next is often a tenth to a few tenths of a degree.
More...
Past News Stories
Sandy Storm Overview