Latest from the NJWxNet
Latest temperatures across NJ appear in the above map. Click on the map or here, the New Jersey Weather and Climate Network, for much more information.
Interested in becoming a volunteer weather observer? Click here to learn more about the CoCoRaHS Network!
Featured Products
The Rutgers Climate Institute's inaugural report on the State of the Climate in New Jersey, which highlights information related to temperature, precipitation, and sea level rise for the state.
Click on the above link to view a list of publications that focus on the weather and climate of a particular state or region. Included are 164 references for 42 states! The earliest is from 1847.
Examine a century's worth of weather observations from locations around the state.
Frequently Updated Climate Data
Latest News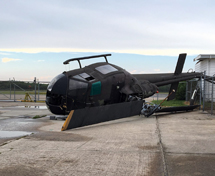 Strong thunderstorm winds toppled a helicopter and
flipped a small plane
at Cape May County Airport (Lower Township) on the afternoon of June 21st. Photo by Twitter user
@Villasone
.
Rather Dry, but Still Some Storms: June 2016 Recap
Dr. David A. Robinson
New Jersey State Climatologist
July 6, 2016
Despite some damaging storms impacting portions of New Jersey on several days and some localized deluges near month's end, June rainfall came in well below average. The statewide average of 2.36" was 1.66" below the 1981–2010 average. This ranks as the 20th driest June since 1895. Northern and central counties were generally drier than those to the south. At month's end, the counties from Hunterdon, Somerset, and northern Middlesex northward were classified as being in "moderate drought," the D1 category on the US Drought Monitor. The counties to the south, through Ocean and Burlington, were in the Monitor's "abnormally dry" D0 category. June stream flow, ground water, and precipitation levels were all well below average, while reservoir capacities in the north began to dip below average near the end of the month.
Temperatures began on the cool side, but the second half of the month was warm enough to bring the statewide average June temperature to 70.6°, which was 0.5° above average. This ranks as the 30th mildest June on record. There was one minimal heat wave at some inland lower-elevation locations, where temperatures climbed to 90° or higher from the 19th–22nd. However, no location exceeded 93° this month. The dry conditions helped to rid the atmosphere of the previous day's warmth during the nighttime hours, thus temperatures of 45° or lower were observed in spots on seven mornings.
More...
Past News Stories
Sandy Storm Overview