Latest from the NJWxNet
Latest temperatures across NJ appear in the above map. Click on the map or here, the New Jersey Weather and Climate Network, for much more information.
Interested in becoming a volunteer weather observer? Click here to learn more about the CoCoRaHS Network!
Featured Products
The Rutgers Climate Institute's inaugural report on the State of the Climate in New Jersey, which highlights information related to temperature, precipitation, and sea level rise for the state.
Click on the above link to view a list of publications that focus on the weather and climate of a particular state or region. Included are 164 references for 42 states! The earliest is from 1847.
Examine a century's worth of weather observations from locations around the state.
Frequently Updated Climate Data
Latest News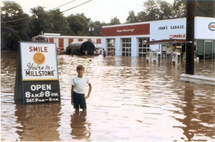 Flooding along the Millstone River in Millstone associated with Tropical Storm Doria in 1971.
New Jersey Hurricane Hunting: A brief recap of a small state's big hurricane history
Tom Karmel
ONJSC Undergraduate Intern
August 21, 2014
With more than a third of the 2014 Atlantic hurricane season behind us, many may assume this season has been quiet. However, the two hurricanes already named mark the first time since 1992 that the first two named storms have reached hurricane strength and the first time there have been two hurricanes by this date since 2008. With the peak of the tropical season yet to come, the question is whether the heart of the season will be active or quiet. The National Weather Service's Climate Prediction Center recently updated their seasonal forecast, projecting only a 5% chance of an active season and 70% chance of a less than normal one. Still, it only takes one storm to seriously impact NJ, so we can never let our guard down. With this in mind, here is a brief history of memorable tropical cyclones affecting New Jersey and a summary of the frequency of storms through the hurricane season.
More...
Past Climate Summaries
Sandy Storm Overview