Latest from the NJWxNet
Latest temperatures across NJ appear in the above map. Click on the map or here, the New Jersey Weather and Climate Network, for much more information.
Interested in becoming a volunteer weather observer? Click here to learn more about the CoCoRaHS Network!
Featured Products
The Rutgers Climate Institute's inaugural report on the State of the Climate in New Jersey, which highlights information related to temperature, precipitation, and sea level rise for the state.
Click on the above link to view a list of publications that focus on the weather and climate of a particular state or region. Included are 164 references for 42 states! The earliest is from 1847.
Examine a century's worth of weather observations from locations around the state.
Frequently Updated Climate Data
Latest News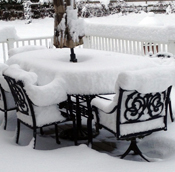 A fresh snowfall in Wantage (Sussex County) on Thanksgiving morning. Photo courtesy of Nick Stefano.
A Cool Damp Month, and All Things Considered, a Rather Average Season: November and Fall 2014 Recap
Dr. David A. Robinson
New Jersey State Climatologist
December 6, 2014
While cooler conditions took some time to arrive in New Jersey this fall, once here they locked in for the most part, as the November average temperature of 41.9° was 3.7° below the 1981-2010 average. This ranks as the 24th coolest November of the past 120 years. November precipitation (rain and melted snow) averaged 4.58" across the state. This is 0.94" above average and ranks as 31st wettest. On two occasions measurable snow was reported in northern and central areas, with these regions, respectively, picking up 4.6" and 1.9" on average for the month, with over a foot accumulating at higher elevations. Despite no snow accumulating in the south, the statewide average was 1.7", which is 1.3" above average. It is only the second November to average above an inch since 1995, the other in 2012. A Thanksgiving eve storm delivered a white Thanksgiving to central and northern counties.
More...
Past News Stories
Sandy Storm Overview