Latest from the NJWxNet
Latest temperatures across NJ appear in the above map. Click on the map or here, the New Jersey Weather and Climate Network, for much more information.
Interested in becoming a volunteer weather observer? Click here to learn more about the CoCoRaHS Network!
Featured Products
The Rutgers Climate Institute's inaugural report on the State of the Climate in New Jersey, which highlights information related to temperature, precipitation, and sea level rise for the state.
Click on the above link to view a list of publications that focus on the weather and climate of a particular state or region. Included are 164 references for 42 states! The earliest is from 1847.
Examine a century's worth of weather observations from locations around the state.
Frequently Updated Climate Data
Latest News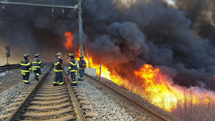 Firefighters battle a brush fire along the Northeast Corridor rail line in Secaucus on April 19 (photo by Joe Shine/The Jersey Journal).
Another Dry Spring Month: April 2016 Recap
Dr. David A. Robinson
New Jersey State Climatologist
May 8, 2016
April continued a dry period that began in March. Monthly rain and melted snow totaled 2.34". This was 1.72" below the 1981–2010 normal and ranks as the 20th driest April since 1895. The 4.35" March–April total was 3.94" below average and ranks as the 7th driest such interval. Unlike the abnormal warmth of March, the average April temperature of 50.7° was 0.5° below normal. This ranks as the 48th mildest on record.
Statewide snowfall averaged 0.2", which is 0.7" below the 1981–2010 mean. The southern counties averaged 0.3" (-0.3"), central 0.0" (-0.9"), and the north 0.2" (-1.2"). The 2015–16 snow season ended with a statewide average of 28.0". This is 4.3" above the 1981–2010 average and 1.8" above the 1895–2016 average. The north was least snowy with 26.5" (-6.5"), the central snowiest at 31.0" (+4.3"), and the south with 27.4" averaged 9.8" above normal. The January blizzard provided the bulk of the snow, well over 75% of the winter total in some locations.
More...
Past News Stories
Sandy Storm Overview