Latest from the NJWxNet
Latest temperatures across NJ appear in the above map. Click on the map or here, the New Jersey Weather and Climate Network, for much more information.
Interested in becoming a volunteer weather observer? Click here to learn more about the CoCoRaHS Network!
Featured Products
The Rutgers Climate Institute's inaugural report on the State of the Climate in New Jersey, which highlights information related to temperature, precipitation, and sea level rise for the state.
Click on the above link to view a list of publications that focus on the weather and climate of a particular state or region. Included are 164 references for 42 states! The earliest is from 1847.
Examine a century's worth of weather observations from locations around the state.
Frequently Updated Climate Data
Latest News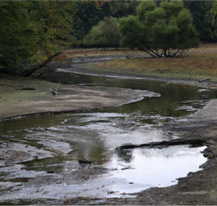 Oradell Reservoir in Bergen County on October 13 (K. Wexler, Record).
A Climatological Potpourri:
October 2016 Recap
Dr. David A. Robinson
New Jersey State Climatologist
November 7, 2016
Season transitional months are often known for the wide swings in daily and weekly weather conditions. October 2016 did not disappoint when it came to exhibiting such variability. Moisture associated with a weakening hurricane to the south contributed to south Jersey's heaviest rain event. A modest late-month storm brought the first frozen precipitation of the season to northern counties. Record warmth for so late in the season was part of a dry mid-month week. Halloween eve seeing the temperature touch 80° in some locations before a thunder-strewn frontal passage dropped temperatures to more seasonal temperatures for trick or treating.
The overall weather pattern continued to produce below normal precipitation over most of NJ. Since March, precipitation has been about two thirds of average across the northern half of the state. Most of the south has had three quarters of average, the exception being the far south, which averaged a bit above normal during the growing season. Following a drought hearing held by the NJ Department of Environmental Protection, the 20th saw a Drought Warning issued for NJ's 14 northernmost counties (south to and including Ocean an Mercer counties). A drought watch is in place for Burlington, Camden, Salem and Gloucester counties. Only Atlantic, Cumberland and Cape May are immune from a watch or warning. At month's end, the US Drought Monitor showed northern NJ in "severe drought", tapering to "moderate drought", "abnormally dry" no designation moving southward and toward the coast. "Severe drought" is associated with precipitation and associate hydrological conditions only found at a given time of year once every 10-20 years; thus in my opinion is worded somewhat too strongly.
More...
Past News Stories
Sandy Storm Overview