Latest from the NJWxNet
Latest temperatures across NJ appear in the above map. Click on the map or here, the New Jersey Weather and Climate Network, for much more information.
Interested in becoming a volunteer weather observer? Click here to learn more about the CoCoRaHS Network!
Featured Products
The Rutgers Climate Institute's inaugural report on the State of the Climate in New Jersey, which highlights information related to temperature, precipitation, and sea level rise for the state.
Click on the above link to view a list of publications that focus on the weather and climate of a particular state or region. Included are 164 references for 42 states! The earliest is from 1847.
Examine a century's worth of weather observations from locations around the state.
Frequently Updated Climate Data
Latest News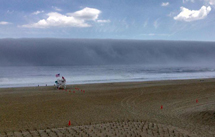 A fog bank sits just offshore of Sea Girt (Monmouth County) during the afternoon of May 31st. Photo by Captain Jim Freda, Beach Manager for Borough of Sea Girt.
Third Warmest and Driest as Drought Concerns Arise: May 2015 Recap
A Pronounced Transition: Spring 2015 Recap
Dr. David A. Robinson
New Jersey State Climatologist
June 4, 2015
May 2015 was a warm and dry month across New Jersey. As the month ended, drought concerns were looming large, though rainfall in the north during the afternoon and evening of the 31st and continuing into the first days of June resulted in at least a temporary braking of the downward slide. Based on data gathered at long-term National Weather Service Cooperative Observing (COOP) stations, May rainfall averaged 1.08" across NJ. This is 2.92" below the 1981-2010 mean and ranks as the 3rd driest May since records commenced in 1895.
Temperatures were quite warm throughout May. The statewide average temperature of 66.0° was 5.2° above average. This ranked as the 3rd warmest may since 1895. It was the persistence of above-average temperatures (especially daily maximums) rather than a scorching heat wave that led to the high ranking. Four of the eight warmest Mays have occurred since 2004.
More...
Past News Stories
Sandy Storm Overview