Latest from the NJWxNet
Latest temperatures across NJ appear in the above map. Click on the map or here, the New Jersey Weather and Climate Network, for much more information.
Interested in becoming a volunteer weather observer? Click here to learn more about the CoCoRaHS Network!
Featured Products
The Rutgers Climate Institute's inaugural report on the State of the Climate in New Jersey, which highlights information related to temperature, precipitation, and sea level rise for the state.
Click on the above link to view a list of publications that focus on the weather and climate of a particular state or region. Included are 164 references for 42 states! The earliest is from 1847.
Examine a century's worth of weather observations from locations around the state.
Frequently Updated Climate Data
Latest News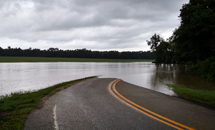 Flooding along Weber Road in Upper Deerfield (Cumberland County) on July 14. Photo by Layne Ball.
Leaning Warm, Leaning Dry
July 2015 Recap
Dr. David A. Robinson
New Jersey State Climatologist
August 1, 2015
In most respects, July 2015 was a rather common one in the weather department. The statewide average temperature of 75.5° was 0.5° deg above the 1981–2010 mean. This past June had the same positive anomaly. This ranks as the 28th warmest July since 1895. It may seem strange to have such a small departure from normal yet rank in the top quartile for warmth. This can be explained by the fact that New Jersey has gotten warmer since the end of the 19th century. Compared to all Julys since 1895, this past July was 1.3° above average. Again, this might not seem like a large difference, however, given that temperatures do not vary from year to year nearly as much in summer as in winter, this change over the past century is notable.
July precipitation averaged 4.08". This is 0.44" below normal and ranks as the 55th driest July of the past 121 years. If you are wondering, the full period of record July precipitation averages just 0.02" less than the 1981–2010 mean. Of course, as is often the case during the showery summer months, rainfall varied considerably from one location to another. It ranged from 9.61" at Montague (Sussex County) to 1.46" in Maplewood (Essex), even with these communities just 50 miles apart. There were three days when local deluges exceeded 4.00" over just several hours. Each resulted in flash flooding, though just miles away considerably less rain fell.
More...
Past News Stories
Sandy Storm Overview