Latest from the NJWxNet
Latest temperatures across NJ appear in the above map. Click on the map or here, the New Jersey Weather and Climate Network, for much more information.
Interested in becoming a volunteer weather observer? Click here to learn more about the CoCoRaHS Network!
Featured Products
The Rutgers Climate Institute's inaugural report on the State of the Climate in New Jersey, which highlights information related to temperature, precipitation, and sea level rise for the state.
Click on the above link to view a list of publications that focus on the weather and climate of a particular state or region. Included are 164 references for 42 states! The earliest is from 1847.
Examine a century's worth of weather observations from locations around the state.
Frequently Updated Climate Data
Latest News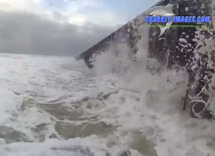 Waves crash into a sheet pile wall in Brick (Ocean County) on October 5. (Photo by
Sharkey-Images
).
On Average, Rather Average, Bookended by Stormy Conditions
October 2015 Recap
Dr. David A. Robinson
New Jersey State Climatologist
November 6, 2015
There were many sides to New Jersey's October 2015 weather, however, when temperature and rainfall observations were averaged, conditions were quite close to long-term (1981–2010) means. The statewide average temperature of 54.4° was 0.4° below normal. This ranked as the 53rd coolest since 1895 (121 years). Precipitation averaged 4.17", which is 0.24" above normal and ranks as 44th wettest. October was bookended by events that dumped the vast majority of the month's precipitation, with an extended period of very dry weather in between. This led to a continuation of moderate drought in the northeast, with nearby areas remaining abnormally dry. The late-month rain, which for the first time in many months was heaviest over the driest areas, staved off the need for any further drought deterioration, at least for the time being. The major weather event of the month extended over the first five days, when incessant onshore winds generated the worst beach erosion and back bay flooding since Sandy three years ago, though not nearly in the same ballpark of what Sandy wrought.