Latest from the NJWxNet
Latest temperatures across NJ appear in the above map. Click on the map or here, the New Jersey Weather and Climate Network, for much more information.
Interested in becoming a volunteer weather observer? Click here to learn more about the CoCoRaHS Network!
Featured Products
The Rutgers Climate Institute's inaugural report on the State of the Climate in New Jersey, which highlights information related to temperature, precipitation, and sea level rise for the state.
Click on the above link to view a list of publications that focus on the weather and climate of a particular state or region. Included are 164 references for 42 states! The earliest is from 1847.
Examine a century's worth of weather observations from locations around the state.
Frequently Updated Climate Data
Latest News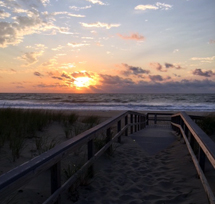 September 4th sunrise at Sea Girt (Monmouth County) as Tropical Storm Hermine lurked offshore (photo couretesy of Kathleen Melli).
Summer is Slow to End:
September 2016 Recap
Dr. David A. Robinson
New Jersey State Climatologist
October 4, 2016
Summer warmth continued into September, only beginning to relinquish its grip on the Garden State during the last week of the month. The average statewide monthly temperature of 70.1° was 4.3° above the 1981–2010 mean. This ranks as the 4th warmest September going back to 1895, with five of the eight warmest Septembers occurring since 2005. Seven of the most recent 13 months have ranked in the top 10 for warmth in their respective months.
Monthly rainfall averaged 3.36" across the state, which is 0.69" below average and ranks as the 61st driest of the past 122 Septembers. However, as discussed below, the average this month does not show the wide disparity of rainfall between the northern and southern parts of the state. While concerns for persistent dry conditions continued increasing across most of NJ through mid September, two soakings in the south alleviated worries in this region. Meanwhile, only one event of note produced totals exceeding an inch in much of the north, thus this region remains much too dry. As of the 27th, a good deal of north and central NJ was considered in moderate drought, with the remainder deemed abnormally dry according to the US Drought Monitor. North Jersey remained under a NJ Department of Environmental Protection "drought watch."
More...
Past News Stories
Sandy Storm Overview