Latest from the NJWxNet
Latest temperatures across NJ appear in the above map. Click on the map or here, the New Jersey Weather and Climate Network, for much more information.
Interested in becoming a volunteer weather observer? Click here to learn more about the CoCoRaHS Network!
Featured Products
The Rutgers Climate Institute's inaugural report on the State of the Climate in New Jersey, which highlights information related to temperature, precipitation, and sea level rise for the state.
Click on the above link to view a list of publications that focus on the weather and climate of a particular state or region. Included are 164 references for 42 states! The earliest is from 1847.
Examine a century's worth of weather observations from locations around the state.
Frequently Updated Climate Data
Latest News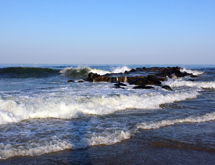 Hazardous surf along the beach in Belmar (Monmouth County) on August 25. (Photo credit: Doug Robinson)
Comfort Reigns: August and Summer of 2014 Recaps
Dr. David A. Robinson
New Jersey State Climatologist
September 2, 2014
A month ago, many NJ residents felt July was quite cool, while in fact it was just 0.4° below the 1981-2010 mean. Such was not the case in August, which truly was on the cool side. The statewide average temperature of 71.0° was 2.4° below average. It ranks as the 32nd coolest since 1895. Even when compared to the 1895-present mean, the month was 1.5° below average. Days with a maximum temperature of 90° or greater were hard to find, certainly a characteristic of the summer of 2014, which will be discussed later in this narrative.
Precipitation varied widely across the Garden State in August, rather typical of a summer month in these parts. Individual station totals ranged from 12.33" in Lacey Township (Ocean County) to 1.01" in Hillsborough (Somerset). When monthly totals from several dozen long-term stations were averaged together, the statewide precipitation was 4.39". This is 0.18" above the 1981-2010 mean (0.26" below the 1895-present mean) and ranks as the 53rd wettest of the past 120 Augusts. It must be noted that the heavy rain that fell after 8 AM on the 31st is not accounted for in most August station totals. For the monthly state average, only several stations that observe at midnight have their full August 31st totals included, while monthly totals at most other National Weather Service Cooperative stations only run through the morning of the 31st. For more on this observing practice, see the April 2014 report.
More...
Past News Stories
Sandy Storm Overview