Latest from the NJWxNet
Latest temperatures across NJ appear in the above map. Click on the map or here, the New Jersey Weather and Climate Network, for much more information.
Interested in becoming a volunteer weather observer? Click here to learn more about the CoCoRaHS Network!
Featured Products
The Rutgers Climate Institute's inaugural report on the State of the Climate in New Jersey, which highlights information related to temperature, precipitation, and sea level rise for the state.
Click on the above link to view a list of publications that focus on the weather and climate of a particular state or region. Included are 164 references for 42 states! The earliest is from 1847.
Examine a century's worth of weather observations from locations around the state.
Frequently Updated Climate Data
Latest News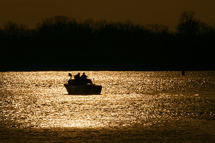 Boaters enjoy the unseasonable warmth on March 9th at the Bordentown Beach water access leading to Crosswicks Creek and the Deleware River (photo by Michael Mancuso/NJ.com).
Spring Warmth Arrives Early: March 2016 Recap
Dr. David A. Robinson
New Jersey State Climatologist
April 4, 2016
Mild and dry conditions prevailed throughout the Garden State during most of March. This included record-breaking early-season warmth, only one event that dropped more than an inch of rain over multiple locations, and a few minor forest fires. There were also two episodes of measurable snow that focused on coastal counties and 11 days where winds gusted to 40 mph or higher somewhere in the state. The statewide average temperature of 46.7° was 5.6° above the 1981–2010 average. This ranks as the 6th mildest March since 1895. Precipitation averaged 2.09". This is 2.14" below normal and ranks as the 13th driest March.
March snowfall average 2.4" across the state, which is 1.9" below average. Northern counties saw only 0.8", which is 5.3" below normal, while the central portion of the state received 1.6" (3.3" below normal). The southern counties were the winners, averaging 0.7" above normal at 3.7". While snow may fall in April (the morning of April 3rd saw 2.7" at Highland Lakes [Sussex County]), a look at what are likely close to the final seasonal totals includes a statewide average of 27.9", which is 1.8" above normal. North Jersey took it on the chin, with an average of 26.3", some 8.4" below average. Central NJ was the winner at 31.0", 4.0" above normal. Meanwhile the south Jersey total of 27.1" exceeded that of the north, even in an absolute sense, and was 7.1" above normal.
More...
Past News Stories
Sandy Storm Overview