Latest from the NJWxNet
Latest temperatures across NJ appear in the above map. Click on the map or here, the New Jersey Weather and Climate Network, for much more information.
Interested in becoming a volunteer weather observer? Click here to learn more about the CoCoRaHS Network!
Featured Products
The Rutgers Climate Institute's inaugural report on the State of the Climate in New Jersey, which highlights information related to temperature, precipitation, and sea level rise for the state.
Click on the above link to view a list of publications that focus on the weather and climate of a particular state or region. Included are 164 references for 42 states! The earliest is from 1847.
Examine a century's worth of weather observations from locations around the state.
Frequently Updated Climate Data
Latest News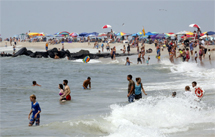 August featured an abundance of excellent beach weather thanks to above-average temperatures and below-average precipitation (photo by Amanda Marzullo/NJ.com).
Top Ten August for Heat and Dryness, Yet Another Hot Summer in the 2000s: August and Summer 2016 Recaps
Dr. David A. Robinson
New Jersey State Climatologist
September 6, 2016
While above-average temperatures persisted from July into August, the precipitation regime did a 180° reversal between months. A 9th warmest July transitioned to a 2nd warmest August across the Garden State, based on records extending back to 1895. The 14th wettest July proved to be a hydrological blessing following the 20th driest June and preceding the 9th driest August. While August ended with most of New Jersey designated as "abnormally dry" and the northeast in "moderate drought" according to the US Drought Monitor, and north Jersey remained under a NJ Department of Environmental Protection "drought watch," water supplies would have been in far worse shape come late summer had July been dry.
The 2nd ranked temperature of 77.0° only fell behind 2005. This is 3.6° above the 1981–2010 mean. Nine of the 15 warmest Augusts of the past 122 years have occurred since 2002, a pattern similar to that of July temperatures and, as discussed below, summers (June–August) as a whole.
More...
Past News Stories
Sandy Storm Overview