Latest from the NJWxNet
Latest temperatures across NJ appear in the above map. Click on the map or here, the New Jersey Weather and Climate Network, for much more information.
Interested in becoming a volunteer weather observer? Click here to learn more about the CoCoRaHS Network!
Featured Products
The Rutgers Climate Institute's inaugural report on the State of the Climate in New Jersey, which highlights information related to temperature, precipitation, and sea level rise for the state.
Click on the above link to view a list of publications that focus on the weather and climate of a particular state or region. Included are 164 references for 42 states! The earliest is from 1847.
Examine a century's worth of weather observations from locations around the state.
Frequently Updated Climate Data
Latest News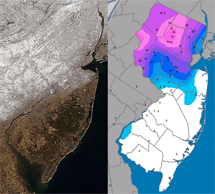 NASA MODIS visible satellite image showing snow cover across NJ (left) and snow on ground in inches as measured by NJ CoCoRaHS observers (right) on February 28th.
Relentless Winter: February 2014 Summary and Winter 2013/14 Summary
Dr. David A. Robinson
March 4, 2014
One of the more disruptive winters in recent decades continued during February, erasing the hopes of many for an early spring. Averaged across New Jersey, the monthly temperature of 29.5° was 4.3° below normal. This made for the 35th coldest February over the past 120 years and the coldest since 2007. Temperatures ranged from a low of -18° at Walpack in snow covered Sussex County valley on the 11th and 12th to a high of 67° at several southern locations on the 21st. The statewide average precipitation of 5.26" made for the 20th wettest February on record. This includes both rainfall and the liquid equivalent of frozen precipitation, and is 2.40" above normal. Snowfall averaged 21.9" across the state, which is 13.9" above normal and ranks as the 7th snowiest of the past 120 Februaries.
More...
Past Climate Summaries
Sandy Storm Overview