Latest from the NJWxNet
Latest temperatures across NJ appear in the above map. Click on the map or here, the Rutgers New Jersey Weather Network, for much more information.
Interested in becoming a volunteer weather observer? Click here to learn more about the CoCoRaHS Network!
Featured Products
This state summary was produced to meet a demand for state-level information in the wake of the Third U.S. National Climate Assessment. The summary covers assessment topics directly related to NOAA's mission, specifically historical climate variations and trends, future climate model projections of climate conditions during the 21st century, and past and future conditions of sea level and coastal flooding.
Click on the above link to view a list of publications that focus on the weather and climate of a particular state or region. Included are 164 references for 42 states! The earliest is from 1847.
Examine a century's worth of weather observations from locations around the state.
Frequently Updated Climate Data
Latest News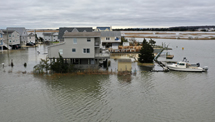 Drone photos of tidal flooding in the vicinity of Tuckerton (Ocean) near the morning high tide on December 17th. Photos courtesy of Life on the Edge Drones.
A Mixed Bag, and A Blow Torch Year: December & Annual 2020 Recaps
Dr. David A. Robinson
January 6, 2021
The statewide average temperature during this last month of 2020 averaged 37.0°. This was 1.8° above the 1981–2010 normal and ranks as the 22nd mildest December in the 126-year record that dates back to 1895. Northern and southern portions of NJ had similar departures and rankings.
December precipitation (rain and the liquid equivalent of snow and sleet) averaged 6.24" based on a statewide estimate generated by the PRISM Climate Group (Oregon State University; final divisional/statewide precipitation estimates from NOAA's nClimDiv dataset were not yet available at the time of publication). This includes rain measured at National Weather Service Cooperative Observing stations on the morning of December 1st but does not include rain measured at these stations for the 24 hours ending on the morning of January 1st. See an explanation of the November 30th–December 1st measurement in the November report. The monthly value is 2.39" above average and ranks as the 11th highest December precipitation total on record. North Jersey averaged 6.73", which is 2.78" above average and ranks 7th wettest. The south came in at 5.89", which is 2.10" above average and ranks 17th wettest. The coast averaged 6.43", which is 2.67" above average and ranks 11th wettest.
More...
Past News Stories
Sandy Storm Overview