Latest from the NJWxNet
Latest temperatures across NJ appear in the above map. Click on the map or here, the New Jersey Weather Network, for much more information.
Interested in becoming a volunteer weather observer? Click here to learn more about the CoCoRaHS Network!
Featured Products
This state summary was produced to meet a demand for state-level information in the wake of the Third U.S. National Climate Assessment. The summary covers assessment topics directly related to NOAA's mission, specifically historical climate variations and trends, future climate model projections of climate conditions during the 21st century, and past and future conditions of sea level and coastal flooding.
Click on the above link to view a list of publications that focus on the weather and climate of a particular state or region. Included are 164 references for 42 states! The earliest is from 1847.
Examine a century's worth of weather observations from locations around the state.
Frequently Updated Climate Data
Latest News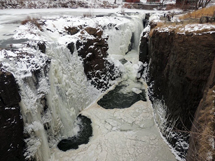 Frigid cold during early January caused the Great Falls of the Passaic River in Paterson (Passaic County) to freeze, as seen on the 11th. Photo by Jim Battista.
Bitter Cold, a Blizzard, and a Thaw: January 2018 Summary
Dr. David A. Robinson
February 5, 2018
The first month of 2018 was replete with cold, warmth, snow, rain, and stretches of dry weather. First came an impressive episode of subfreezing conditions that began in late December and extended into the second week of January. This interval included a storm that brought over 10" of snow and blizzard conditions to coastal counties. Next was a heavy rain event accompanied by much warmer air, then later in the month, several scattered rain and snow episodes interspersed with dry conditions and some 60° warmth. Something for most everyone, I suppose you could say!
The statewide January mean temperature was 29.2°. This is 1.5° below the 1981–2010 mean and ranks as the 55th coldest January of the 124 since 1895. It was the coldest January since 2015. Precipitation (rain and melted snow) across NJ averaged 2.69", which is 0.71" below average for the month. This was the 39th driest on record and the lowest total since 2010. January snowfall across the state averaged 8.3", which was 1.1" above average. Northern counties averaged 7.9" (-1.4"), central ones 6.9" (-1.0"), and the south on top with 9.2" (+3.4"). Through January, this snow season has brought an average of 17.0" (+4.1") to New Jersey, with the north at 16.6" (-0.8"), central 14.7" (+0.3"), and south 17.0" (+4.1").
More...
Past News Stories
Sandy Storm Overview