Latest from the NJWxNet
Latest temperatures across NJ appear in the above map. Click on the map or here, the New Jersey Weather Network, for much more information.
Interested in becoming a volunteer weather observer? Click here to learn more about the CoCoRaHS Network!
Featured Products
This state summary was produced to meet a demand for state-level information in the wake of the Third U.S. National Climate Assessment. The summary covers assessment topics directly related to NOAA's mission, specifically historical climate variations and trends, future climate model projections of climate conditions during the 21st century, and past and future conditions of sea level and coastal flooding.
Click on the above link to view a list of publications that focus on the weather and climate of a particular state or region. Included are 164 references for 42 states! The earliest is from 1847.
Examine a century's worth of weather observations from locations around the state.
Frequently Updated Climate Data
Latest News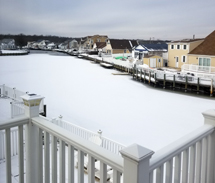 Early-season snow-covered ice on a lagoon in The Coves section of Beach Haven West in Stafford Township (Ocean County) on December 31. Photo by Erik Namendorf.
An Early Winter Sampler: December 2017 Recap and Annual Summary, including the Top 10 Events of 2017
Dr. David A. Robinson
January 3, 2018
The last month of 2017 was similar to many a month this past year. Whatever the season, weather conditions varied quite a bit from week to week. This was mainly due to an absence of atmospheric blocking in the middle and high latitudes with patterns that can lock a particular weather situation in place for multiple weeks. Thus in December we had a mild week, a snowy week, and a very cold week interspersed with transitional conditions. The one largely absent factor was precipitation, which resulted in the 10th driest December across NJ since records were established in 1895. The 1.57" of rain and melted snowfall was 2.28" below the 1981–2010 average. Snowfall averaged 8.7", which is 3.9" above average and ranks as the 25th snowiest December on record. It was the snowiest since 2010. North Jersey averaged 8.7" (+2.1"), central areas 7.8" (+2.3"), and the south 9.1" (+4.9"). Temperatures seesawed from week to week, with the monthly statewide average of 33.6° being 1.6° below the 1981–2010 average. This ranked as the 61st coldest or 63rd mildest December on record.
More...
Past News Stories
Sandy Storm Overview