Latest from the NJWxNet
Latest temperatures across NJ appear in the above map. Click on the map or here, the New Jersey Weather Network, for much more information.
Interested in becoming a volunteer weather observer? Click here to learn more about the CoCoRaHS Network!
Featured Products
This state summary was produced to meet a demand for state-level information in the wake of the Third U.S. National Climate Assessment. The summary covers assessment topics directly related to NOAA's mission, specifically historical climate variations and trends, future climate model projections of climate conditions during the 21st century, and past and future conditions of sea level and coastal flooding.
Click on the above link to view a list of publications that focus on the weather and climate of a particular state or region. Included are 164 references for 42 states! The earliest is from 1847.
Examine a century's worth of weather observations from locations around the state.
Frequently Updated Climate Data
Latest News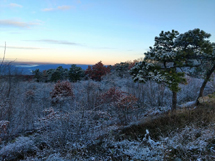 A few tenths of an inch of snow dusted High Point (Sussex County) overnight during November 7th-8th, as seen looking northwest towards the Delaware valley fog near Port Jervis, NY. Photo courtesy of Shawn Viggiano.
Even a Quiet Month Can be Interesting and an Overall Mild and Dry Season: November and Fall 2017 Summary
Dr. David A. Robinson
December 5, 2017
Even in a rather tranquil month, there are always interesting aspects of New Jersey's weather and climate that can make for memorable situations. Such was the case during the 11th month of 2017. On the heels of a mild October and first week of November came one of the coldest early-season blasts on record on the 11th. Then the 19th saw some of the strongest winds of the year across the state. Overall, dry conditions by month's end put the northern Highlands in the D0 (abnormally dry) category on the US Drought Monitor map, threatening to expand further into the state should dry conditions persist.
Rainfall averaged 1.68" across the state. This is 1.93" below the 1981–2010 mean and ranks as the 19th driest November since 1895. It was the driest since 1.30" fell in 2012 and well above the record low 0.54" in 1917. The statewide average temperature of 44.3° tied with 1938 as the 75th coolest (or 49th mildest) on record. The average was 0.9° below the 1981–2010 mean, but 0.8° above the 1895–2017 mean. This demonstrates how New Jersey has warmed in recent decades compared to earlier in the 20th century.
More...
Past News Stories
Sandy Storm Overview