Latest from the NJWxNet
Latest temperatures across NJ appear in the above map. Click on the map or here, the New Jersey Weather Network, for much more information.
Interested in becoming a volunteer weather observer? Click here to learn more about the CoCoRaHS Network!
Featured Products
This state summary was produced to meet a demand for state-level information in the wake of the Third U.S. National Climate Assessment. The summary covers assessment topics directly related to NOAA's mission, specifically historical climate variations and trends, future climate model projections of climate conditions during the 21st century, and past and future conditions of sea level and coastal flooding.
Click on the above link to view a list of publications that focus on the weather and climate of a particular state or region. Included are 164 references for 42 states! The earliest is from 1847.
Examine a century's worth of weather observations from locations around the state.
Frequently Updated Climate Data
Latest News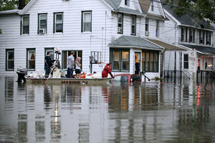 A man waits for rescuers while surrounded by flash flood waters in Westville (Gloucester County) on June 20th. Photo by Elizabeth Robertson/The Philadelphia Inquirer.
Plenty Green: June 2019 Recap
Dr. David A. Robinson
July 8, 2019
The moist and mild pattern of late spring and early summer has left the Garden State quite green. There is nothing new to this pattern, as the first six months of 2019 totaled 27.22" of rain and melted snowfall, some 4.92" above the 1981–2010 mean, and a 49.0° average temperature, which is 1.3° above average. Each of these ranks 13th highest of the past 125 years.
Even more impressive, the past 12 months have seen 10 wetter than average and 10 warmer than average. The two drier-than-average months (March and April) were closer to their 30-year mean than any of the wetter ones. The precipitation total for the past 12 months is 65.28". This is the second wettest 12-month period on record out of all 1483 12-month periods dating back to 1895. The wettest was 66.62" for the period ending this past January. The majority of the top 20 such periods have occurred this decade. They have included the two wettest calendar years on record (2018 and 2011) and appear to have lasted longer than earlier wet intervals. Meanwhile, the warmth of the past 12 months (54.5°) would rank as the 9th warmest calendar year but not within the top 20 for any 12-month period.
More...
Past News Stories
Sandy Storm Overview