Latest from the NJWxNet
Latest temperatures across NJ appear in the above map. Click on the map or here, the Rutgers New Jersey Weather Network, for much more information.
Interested in becoming a volunteer weather observer? Click here to learn more about the CoCoRaHS Network!
Featured Products
This state summary was produced to meet a demand for state-level information in the wake of the Third U.S. National Climate Assessment. The summary covers assessment topics directly related to NOAA's mission, specifically historical climate variations and trends, future climate model projections of climate conditions during the 21st century, and past and future conditions of sea level and coastal flooding.
Click on the above link to view a list of publications that focus on the weather and climate of a particular state or region. Included are 164 references for 42 states! The earliest is from 1847.
Examine a century's worth of weather observations from locations around the state.
Frequently Updated Climate Data
Latest News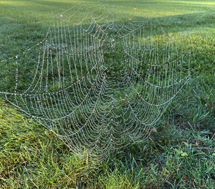 A dew-covered spider web from the morning of October 14th in Sparta (Sussex). Photo by N. Stefano.
A Transition Month for Sure: October 2020 Recap
Dr. David A. Robinson
November 5, 2020
As the warmth of summer transitions to the cold of winter, New Jersey weather conditions can vary markedly from week to week. Such was the case during October 2020, with abundant precipitation occurring from the remnants of two hurricanes, an episode of measurable snow in the north, several weeks of quite dry conditions, a number of comfortably warm days, and the first frost and freeze of the season for many locations. Put this all together and October proved to be milder and wetter than normal. The statewide monthly average temperature of 57.2° was 2.7° above the 1981–2010 mean. This ranks as the 18th mildest (tied with 1963 and 1931) over the 126 years extending back to 1895. Southern areas were warmer than northern ones in terms of actual temperature and departure from normal. The 58.8° average in the south was 3.2° above normal and ranked 15th warmest. The north averaged 54.4°, which was 2.0° on the plus side and ranking 27th mildest.
It took a wet final week of the month to push precipitation totals to the plus side of normal. The 5.15" statewide monthly average was 1.26" above normal and ranked as the 24th wettest on record. Somewhat like temperatures, there was north-south disparity. The south averaged 5.36", which is 1.73" above normal and ranks 20th wettest. The north averaged 4.64", which is 0.33" above normal and ranks 36th wettest. Dry conditions prevailed, most notably in the northwest, with coastal reaches wettest. Snow fell in the north on the 30th and will be discussed below.