Latest from the NJWxNet
Latest temperatures across NJ appear in the above map. Click on the map or here, the Rutgers New Jersey Weather Network, for much more information.
Interested in becoming a volunteer weather observer? Click here to learn more about the CoCoRaHS Network!
Featured Products
This state summary was produced to meet a demand for state-level information in the wake of the Third U.S. National Climate Assessment. The summary covers assessment topics directly related to NOAA's mission, specifically historical climate variations and trends, future climate model projections of climate conditions during the 21st century, and past and future conditions of sea level and coastal flooding.
Click on the above link to view a list of publications that focus on the weather and climate of a particular state or region. Included are 164 references for 42 states! The earliest is from 1847.
Examine a century's worth of weather observations from locations around the state.
Frequently Updated Climate Data
Latest News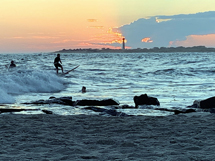 The setting sun dips behind a patch of cumulus clouds in Cape May on August 29th. Photo courtesy of M. Holzer.
The Beat Goes On: August 2020 & Summer Recaps
Dr. David A. Robinson
September 7, 2020
August joined the chorus of much warmer-than-normal months experienced throughout most of 2020 to date across the Garden State. Six of the eight months have ranked among the top 10 warmest for the 126 years beginning in 1895. Only April and May are outliers and, in fact, each of them had below-average temperatures. With a mean of 75.5°, August tied with 2001 and 1955 as the 6th warmest. This is 2.5° above the 1981–2010 mean. Eleven of the warmest 17 Augusts have occurred since 2001. The mean maximum of 84.8° tied for 19th warmest at 1.5° above normal, while the mean minimum of 66.1° was 3.4° above normal and ranked 4th warmest.
Statewide precipitation averaged 6.04". This is 1.94" above normal and ranks as the 26th wettest August on record. Above-average totals occurred in northern (6.02"), southern (6.10"), and coastal (5.50") climate divisions. The southern division (Mercer-Middlesex-Monmouth counties and south, except a narrow coastal division) saw a range from the driest area in Monmouth and parts of Mercer counties and a very wet area in Salem and Gloucester counties.