Latest from the NJWxNet
Latest temperatures across NJ appear in the above map. Click on the map or here, the New Jersey Weather Network, for much more information.
Interested in becoming a volunteer weather observer? Click here to learn more about the CoCoRaHS Network!
Featured Products
This state summary was produced to meet a demand for state-level information in the wake of the Third U.S. National Climate Assessment. The summary covers assessment topics directly related to NOAA's mission, specifically historical climate variations and trends, future climate model projections of climate conditions during the 21st century, and past and future conditions of sea level and coastal flooding.
Click on the above link to view a list of publications that focus on the weather and climate of a particular state or region. Included are 164 references for 42 states! The earliest is from 1847.
Examine a century's worth of weather observations from locations around the state.
Frequently Updated Climate Data
Latest News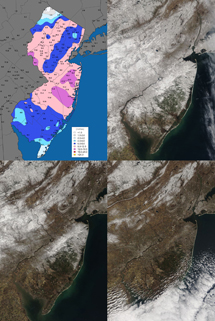 Snowfall map for the March 20-22 nor'easter (top left), along with a series of NASA MODIS Terra images from March 23rd (top right), 24th (bottom left), and 26th (bottom right) that show the snowfall pattern and subsequent melting from the storm. By March 26th, remaining snow cover was mainly confined to higher elevations of northern NJ and thinly covering the ground in inland portions of Monmouth County.
The Lion Roared All Month Long: March 2018 Summary
Dr. David A. Robinson
April 7, 2018
While the first and last few days of the month came in disguised as a lamb, March 2018 was a roaring lion on many occasions. Three nor'easters pounded New Jersey, with a fourth grazing the state, turning more of its wrath on southeastern New England. In true nor'easter fashion, the storms brought minor to moderate coastal flooding, significant beach erosion, powerful winds, heavy rain, and record- to near-record-breaking snowfall. This led to two of the larger power outages since Sandy in 2012, numerous traffic accidents, significant tree damage, frequent school closings, and even someone being injured by lightning during a snowstorm.
Rain and melted snow amounted to 4.66" statewide. This was 0.55" above the 1981–2010 average. It was the 37th wettest March since 1895 and wettest since 2011. Along with the wet February, this washed away any early- to mid-winter drought concerns.
More...
Past News Stories
Sandy Storm Overview