Latest from the NJWxNet
Latest temperatures across NJ appear in the above map. Click on the map or here, the New Jersey Weather Network, for much more information.
Interested in becoming a volunteer weather observer? Click here to learn more about the CoCoRaHS Network!
Featured Products
This state summary was produced to meet a demand for state-level information in the wake of the Third U.S. National Climate Assessment. The summary covers assessment topics directly related to NOAA's mission, specifically historical climate variations and trends, future climate model projections of climate conditions during the 21st century, and past and future conditions of sea level and coastal flooding.
Click on the above link to view a list of publications that focus on the weather and climate of a particular state or region. Included are 164 references for 42 states! The earliest is from 1847.
Examine a century's worth of weather observations from locations around the state.
Frequently Updated Climate Data
Latest News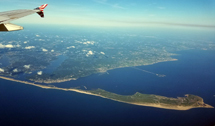 Sandy Hook and nearby Monmouth County and Raritan Bay on the morning of June 25th. A few low-altitude cumulus clouds (and their shadows) dot the landscape, while cirrus reside overhead. Photo by Doug Robinson.
Rather Typical: June 2018 Recap
Dr. David A. Robinson
July 5, 2018
After an ample share of ups and downs throughout the past spring, the weather in June became rather typical for the start of summer. It was drier than average in the north and wetter than usual in the south, with the temperature close to the long-term mean. Fortunately, New Jersey entered the heart of summer with reservoirs full. However, with the onset of an apparent extended period of heat late in the month, it is certainly prudent to conserve water wisely.
The June average statewide temperature of 69.8° equaled the 1981–2010 mean, but is 1.0° above the 1895–present average. This tied with 1906 and 1967 as the 42nd mildest June on record. Precipitation averaged 3.43" across NJ, which is 0.58" below the 1981–2010 mean. This ranks as the 57th driest June, tied with 2011.
More...
Past News Stories
Sandy Storm Overview