Latest from the NJWxNet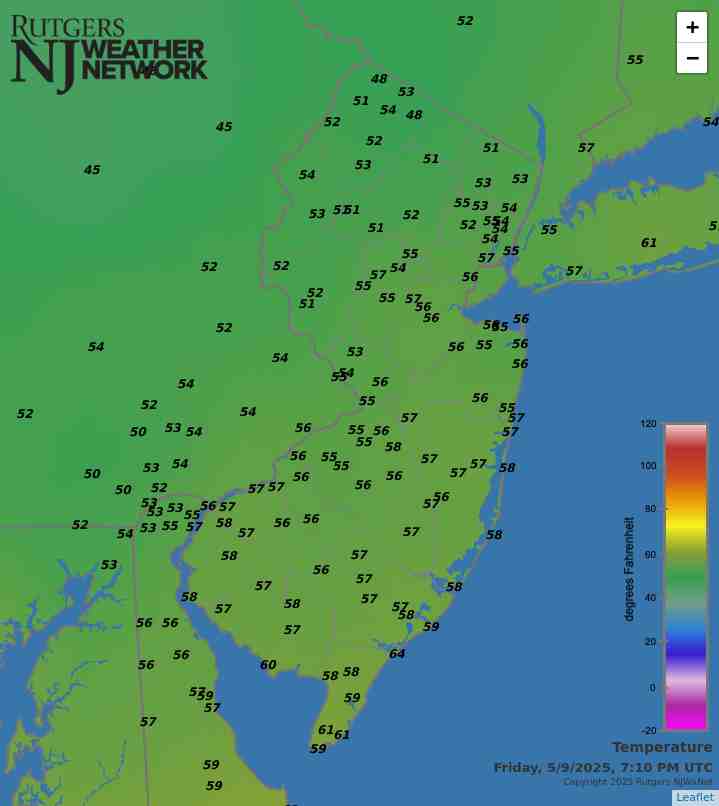 Latest temperatures across NJ appear in the above map. Click on the map or here, the Rutgers New Jersey Weather Network, for much more information.
Interested in becoming a volunteer weather observer? Click here to learn more about the CoCoRaHS Network!
Featured Products
Latest News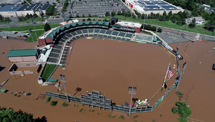 A flooded TD Bank Ballpark in Bridgewater (Somerset County) on September 2nd following the staggering rainfall caused by the remnants of Ida. Photo by Thomas P. Costello and Tariq Zehawi/USA Today Network.
Unprecedented: September 2021 Recap
Dr. David A. Robinson
October 8, 2021
Post-tropical storm Ida. The title of this month's report speaks to this momentous weather extreme that will forever be the defining event of this month and likely the entire year. The storm delivered the most powerful tornado to strike the Garden State since 1990, demolishing multiple homes in Gloucester County. Rainfall exceeding 3.00" per hour led to the most widespread flash flood event on record for the state, resulting in the tragic deaths of 30 individuals in central and northeastern locales. A separate report on Ida has been prepared and may be accessed here.
There were 29 other days of weather this month that fortunately were not as dramatic as Ida on the 1st. All told, monthly precipitation averaged 6.20" across NJ. This was 2.04" above the 1991–2020 normal and ranks as the 15th wettest September since 1895. The north, where the bulk of Ida's rain fell, averaged 8.92", which was 4.46" above normal and ranks 7th wettest. The south averaged 4.61", which was 0.62" above normal and ties as the 31st wettest. Along the coast, only 3.81" fell, some 0.08" below normal and ranking 44th wettest.
More...
Past News Stories