Latest from the NJWxNet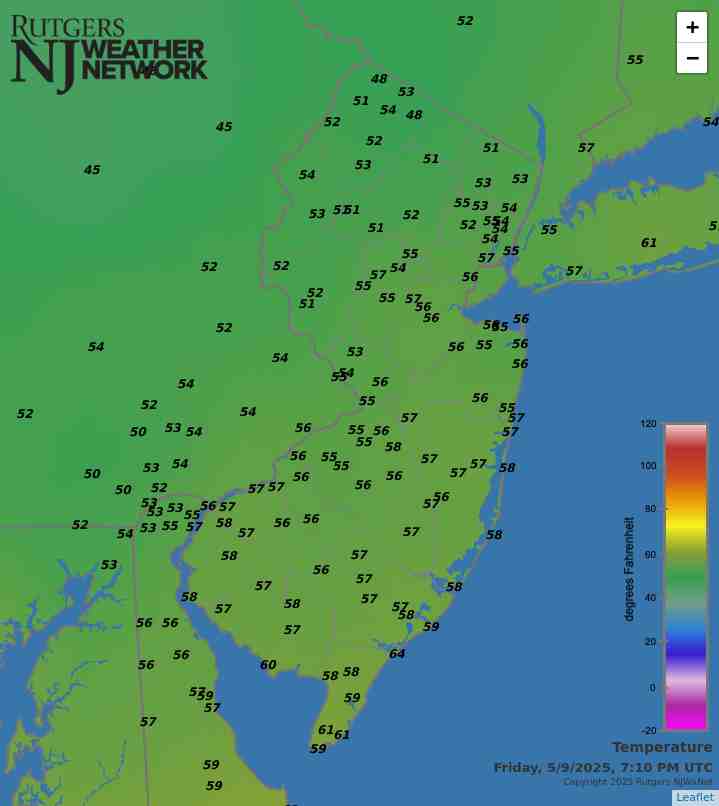 Latest temperatures across NJ appear in the above map. Click on the map or here, the Rutgers New Jersey Weather Network, for much more information.
Interested in becoming a volunteer weather observer? Click here to learn more about the CoCoRaHS Network!
Featured Products
This state summary was produced to meet a demand for state-level information in the wake of the Third U.S. National Climate Assessment. The summary covers assessment topics directly related to NOAA's mission, specifically historical climate variations and trends, future climate model projections of climate conditions during the 21st century, and past and future conditions of sea level and coastal flooding.
Click on the above link to view a list of publications that focus on the weather and climate of a particular state or region. Included are 164 references for 42 states! The earliest is from 1847.
Examine a century's worth of weather observations from locations around the state.
Frequently Updated Climate Data
Latest News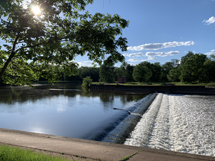 A weir immediately downstream of the confluence of the Raritan and Millstone rivers in Somerset County on June 16th, as taken from the towpath of the Delaware-Raritan Canal. Photo by Dave Robinson.
Hit or Miss:
June 2021 Recap:
Dr. David A. Robinson
July 8, 2021
June was a hit or miss month when it came to rainfall, even within counties. Of course, this is not all that uncommon during the warm season, where much of the rainfall arrives courtesy of localized showers and thunderstorms. There were also ups and downs of the thermometer during the month, including some chilly mornings. Overall, the balance was weighted towards the warm side of the ledger, resulting in a top 10 ranking for June temperature.
The statewide average temperature of 71.9° was 1.6° above the 1991–2020 normal (3.0° greater than the 1895–2021 average). This ties the month with 2011 as the 8th warmest since records commenced in 1895. Seven of the 16 warmest Junes of the past 127 years have occurred in just the past 17 years. The average high of 82.7° was 1.7° above normal and ties as the 11th warmest, while the average low of 61.0° was 1.4° above normal and ranks 8th warmest.
More...
Past News Stories
Sandy Storm Overview