Latest from the NJWxNet
Latest temperatures across NJ appear in the above map. Click on the map or here, the New Jersey Weather Network, for much more information.
Interested in becoming a volunteer weather observer? Click here to learn more about the CoCoRaHS Network!
Featured Products
This state summary was produced to meet a demand for state-level information in the wake of the Third U.S. National Climate Assessment. The summary covers assessment topics directly related to NOAA's mission, specifically historical climate variations and trends, future climate model projections of climate conditions during the 21st century, and past and future conditions of sea level and coastal flooding.
Click on the above link to view a list of publications that focus on the weather and climate of a particular state or region. Included are 164 references for 42 states! The earliest is from 1847.
Examine a century's worth of weather observations from locations around the state.
Frequently Updated Climate Data
Latest News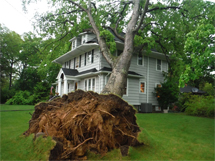 A large tree leans against a home in Ringwood (Passaic County) following severe thunderstorms on May 15. Photo by Boyd A. Loving/NorthJersey.com.
Warm and Wet May, and an Action Packed Spring: May 2018 Summary and Spring Recap
Dr. David A. Robinson
June 5, 2018
After April timidly transitioned into milder weather, May was plenty bold in the thermal department, on multiple occasions behaving more like summer than late spring. Most NJ residents did not seem to mind the warmth; rather, from the second week onward, it was the frequent episodes of rain, often targeting weekends, which raised the level of crankiness among many!
Statewide, this was the 5th warmest May since records commenced in 1895. The 65.0° average was 4.5° above the 1981–2010 mean. Five of the ten warmest Mays have occurred since 2004.
In most locations, rain fell on at least half of the days of the month. The 5.96" average across NJ was 1.97" above the 1981–2010 mean. This ranks as the 13th wettest May on record, but 0.55" below last year's average.
More...
Past News Stories
Sandy Storm Overview