Latest from the NJWxNet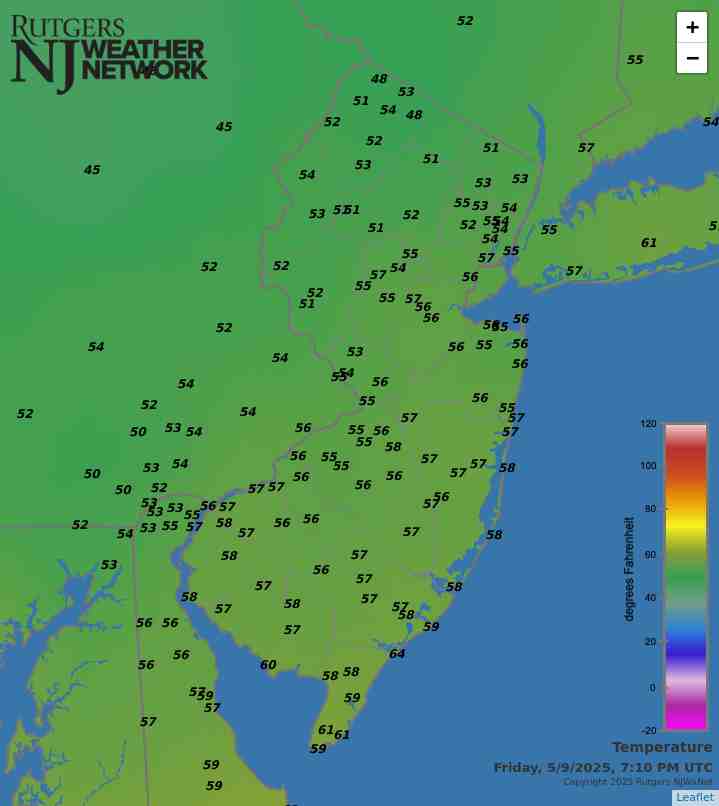 Latest temperatures across NJ appear in the above map. Click on the map or here, the Rutgers New Jersey Weather Network, for much more information.
Interested in becoming a volunteer weather observer? Click here to learn more about the CoCoRaHS Network!
Featured Products
Latest News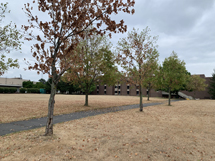 Trees and grass impacted by excessively dry conditions on Livingston Campus at Rutgers University in Piscataway (Middlesex County). Photo taken by D. Robinson on August 1st.
Once Again Hot, and This Time Around, Dry:
July 2022 Recap
Dr. David A. Robinson
August 6, 2022
When it comes to recent hot Julys in New Jersey, the beat goes on. This year the heat was joined by quite limited precipitation, something not often seen in recent years. The statewide average temperature of 78.1° was 2.7° above the 1991–2020 normal, ranking 6th warmest since records commenced in 1895. Eight of the ten warmest Julys have occurred since 2010, leaving only 1955 and 1999 as top-ten outliers. The statewide average maximum was 88.6° (+2.9°, 6th warmest) and the minimum 67.5° (+2.4°, 4th warmest). Northern counties averaged 75.9° (+2.2°, 9th warmest), southern counties 79.5° (+3.0°, 3rd warmest), and coastal areas 78.8° (+2.6°, tied as 4th warmest).
Statewide July precipitation averaged 2.19", which is 2.52" below normal, ranking as the 13th driest on record. Of the top 15, only two have occurred this century. The north averaged 2.03" (-2.69", 14th driest), south 2.30" (-2.44", 14th driest), and coast 2.16" (-2.22", 17th driest). The central portion of the state was driest, with less than 2.00" accumulating, and under an inch in the driest areas. Closer-to-normal totals were found in the northwest, northeast, and southwest. At month's end, portions of central NJ were classified as being in moderate drought (D1) on the weekly U.S. Drought Monitor map. This denotes conditions not seen more than once every five to ten years. Surrounding central and northern areas were considered abnormally dry (D0), as was the southeast corner of the state. This all coincides quite well with the most pronounced precipitation deficits of the past month.
More...
Past News Stories