Latest from the NJWxNet
Latest temperatures across NJ appear in the above map. Click on the map or here, the Rutgers New Jersey Weather Network, for much more information.
Interested in becoming a volunteer weather observer? Click here to learn more about the CoCoRaHS Network!
Featured Products
This state summary was produced to meet a demand for state-level information in the wake of the Third U.S. National Climate Assessment. The summary covers assessment topics directly related to NOAA's mission, specifically historical climate variations and trends, future climate model projections of climate conditions during the 21st century, and past and future conditions of sea level and coastal flooding.
Click on the above link to view a list of publications that focus on the weather and climate of a particular state or region. Included are 164 references for 42 states! The earliest is from 1847.
Examine a century's worth of weather observations from locations around the state.
Frequently Updated Climate Data
Latest News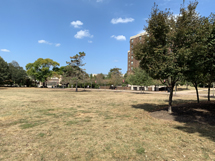 Dry conditions leading to browning grasses on Rutgers Livingston Campus in Piscataway (Middlesex County) at the end of September. Photo by Dave Robinson.
Off Goes the Faucet:
September 2019 Recap
Dr. David A. Robinson
October 6, 2019
No months prior to this past September have been drier across New Jersey since February 2009, a testament to how precipitation has leaned toward the wet side since the last major drought impacted the state in 2002. The 1.21" received this September was 2.84" below the 1981–2010 average. This ranked as the 7th driest September since records commenced in 1895. February 2009 saw only 0.66", but since February is on average the driest month of the year (2.80"), the last time a monthly deficit was larger than this September was the 3.06" departure in September 2007. Since 2000, only six other months early in the century have been drier (February 2002: 0.75", October 2000: 0.77", March 2006: 0.82", October 2001: 0.93", November 2001: 1.00", and September 2005: 1.19").
Conditions were driest in the north, averaging 1.06", which is 3.41" below normal and ranks as the 4th driest September on record. Southern NJ ranked 12th driest with 1.30", which is 2.52" below normal. This "flash drought" depleted soil moisture, resulting in brown lawns and shallow-rooted trees losing leaves early. Fire danger also increased, resulting in a ban on open fires. At month's end, the US Drought Monitor had most of NJ in the D0 (abnormally dry) category, with Salem County experiencing moderate drought (D1) conditions. Thanks to above-average precipitation earlier this year, northern NJ reservoir levels remained above early-fall averages. Certainly, a watchful eye will be kept on all water resources should this dry spell continue.
Above-average temperatures helped to dry things out in September. The 69.1° statewide average was 3.3° above the 1981–2010 mean. This ranks as the 8th warmest September over the past 125 years (tied with 1921; Table 2). Southern areas were warmest, at 3.5° above normal, while the north was 2.8° above.
More...
Past News Stories
Sandy Storm Overview