Latest from the NJWxNet
Latest temperatures across NJ appear in the above map. Click on the map or here, the New Jersey Weather Network, for much more information.
Interested in becoming a volunteer weather observer? Click here to learn more about the CoCoRaHS Network!
Featured Products
This state summary was produced to meet a demand for state-level information in the wake of the Third U.S. National Climate Assessment. The summary covers assessment topics directly related to NOAA's mission, specifically historical climate variations and trends, future climate model projections of climate conditions during the 21st century, and past and future conditions of sea level and coastal flooding.
Click on the above link to view a list of publications that focus on the weather and climate of a particular state or region. Included are 164 references for 42 states! The earliest is from 1847.
Examine a century's worth of weather observations from locations around the state.
Frequently Updated Climate Data
Latest News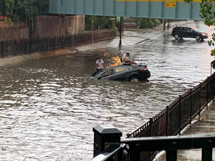 Flash flooding in an underpass in Perth Amboy (Middlesex County) on August 7th. Photo by the Perth Amboy Police Dept.
Leaning Warm and a Bit Dry, and Once Again, Top-Ten Warmth: August and Summer 2019 Recaps
Dr. David A. Robinson
September 5, 2019
The summer of 2019 concluded on a warm and a bit dry note when averaged across the Garden State. The warmth was a common theme throughout June to August, while the earlier summer months were on the wet side. The average August temperature of 74.4° was 1.4° above the 1981–2010 mean and is tied with 1983 and 1973 as the 14th warmest since 1895. On 12 days, the temperature topped out at 90° or hotter at one or more Rutgers NJ Weather Network station, but never exceeded 96°. The heat was somewhat tempered by seven mornings with lows in the 40°s at some northwestern NJWxNet locations.
August precipitation averaged 3.75" across NJ. This was 0.35" below normal and ranks as the 52nd driest of the past 125 Augusts. As expected during a summer month that is dominated by hit and miss showers, rainfall totals varied quite a bit, even on a local scale. The driest location in the state was Lambertville in Hunterdon County where 1.48" fell, while the wettest was Lebanon, also in Hunterdon County, with 7.99". When and where the storms struck, they were, at times, intense. This included small tornadoes and more widespread strong winds, dangerous lightning, and flash flooding.
More...
Past News Stories
Sandy Storm Overview