Latest from the NJWxNet
Latest temperatures across NJ appear in the above map. Click on the map or here, the New Jersey Weather Network, for much more information.
Interested in becoming a volunteer weather observer? Click here to learn more about the CoCoRaHS Network!
Featured Products
This state summary was produced to meet a demand for state-level information in the wake of the Third U.S. National Climate Assessment. The summary covers assessment topics directly related to NOAA's mission, specifically historical climate variations and trends, future climate model projections of climate conditions during the 21st century, and past and future conditions of sea level and coastal flooding.
Click on the above link to view a list of publications that focus on the weather and climate of a particular state or region. Included are 164 references for 42 states! The earliest is from 1847.
Examine a century's worth of weather observations from locations around the state.
Frequently Updated Climate Data
Latest News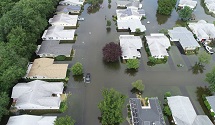 Flash flooding in Brick Twp (Ocean County) on August 12th. Photo by Brick Township Police Department.
Green Warmth: August and Summer 2018 Recaps
Dr. David A. Robinson
September 5, 2018
The summer of 2018 concluded on a warm, wet note across the majority of what was a persistently green Garden State throughout the season. The warmth dated back to late June, with frequent humid conditions and abundant showers from mid-July onward. There will be more on the entire summer at the end of this report. First a look at August, with a statewide average temperature of 76.8° coming in 3.8° above the 1981–2010 average. This was the second warmest August since 1895, falling just behind 2016 by 0.1°. Nine of the 13 warmest Augusts during that 124-year interval have occurred since 2001.
Statewide, August precipitation averaged 5.63". This was 1.53" above the 1981–2010 average and ranked as the 32nd wettest since 1895. It was the wettest August since the record wettest month in 2011. As is often seen in the summer, the majority of the precipitation fell in scattered showers and thunderstorms. This resulted in a wide range of monthly totals around the state, with some serious flash flooding occurring in several locations when moisture ladened storms parked themselves over an area for multiple hours. Where storms missed time and time again, rainfall totals were below average. The northern NJ climate division (Hunterdon, Somerset, and Union counties northward) saw their 10th wettest August on record, with an average of 8.28" falling. This is 4.17" above average. Since 1990, only August 2011 was wetter in this division.
More...
Past News Stories
Sandy Storm Overview