Latest from the NJWxNet
Latest temperatures across NJ appear in the above map. Click on the map or here, the Rutgers New Jersey Weather Network, for much more information.
Interested in becoming a volunteer weather observer? Click here to learn more about the CoCoRaHS Network!
Featured Products
This state summary was produced to meet a demand for state-level information in the wake of the Third U.S. National Climate Assessment. The summary covers assessment topics directly related to NOAA's mission, specifically historical climate variations and trends, future climate model projections of climate conditions during the 21st century, and past and future conditions of sea level and coastal flooding.
Click on the above link to view a list of publications that focus on the weather and climate of a particular state or region. Included are 164 references for 42 states! The earliest is from 1847.
Examine a century's worth of weather observations from locations around the state.
Frequently Updated Climate Data
Latest News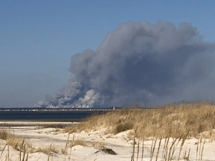 Smoke billows from a controlled burn on February 23rd on the mainland, as seen looking west northwest from Holgate (Ocean County) on Long Beach Island. Photo by
Kerri Mazzella
.
More Like Virginia: February 2020 and Winter 2019/20 Recaps
Dr. David A. Robinson
March 4, 2020
Following on the heels of the 8th mildest January on record, February 2020 entered the books as the 3rd mildest since records began in 1895. The 39.2° average was 5.7° above the 1981–2010 mean. The northern climate division of the state averaged 36.2° (+5.2°; 6th mildest), the south was 41.0° (+6.1°; 3rd mildest), and the coastal division was 41.2° (+5.7°; 3rd mildest). Average minimum temperatures ranked 2nd mildest for the state, while average maximums ranked 8th mildest. To place February 2020 in some perspective, it was just 1.6° below the 1981–2010 March average of 40.8° and only 0.2° below the longer 1895–2019 March average. It was close to the long-term (1981–2010) average February temperatures in Washington, DC, Paducah, KY, and Bristol, TN.
February precipitation (rain and melted snow) came in very close to the 1981–2010 average at 2.82". This is just 0.02" above average and ranks as the 62nd driest (and 65th wettest) of the past 126 years. Divisional totals ranged from 2.48" (-0.34", 49th driest) in the north, 2.99" (+0.21", 60th wettest) in the south, and 3.37" (+0.48", 51st wettest) at the coast.
More...
Past News Stories
Sandy Storm Overview