Latest from the NJWxNet
Latest temperatures across NJ appear in the above map. Click on the map or here, the New Jersey Weather Network, for much more information.
Interested in becoming a volunteer weather observer? Click here to learn more about the CoCoRaHS Network!
Featured Products
This state summary was produced to meet a demand for state-level information in the wake of the Third U.S. National Climate Assessment. The summary covers assessment topics directly related to NOAA's mission, specifically historical climate variations and trends, future climate model projections of climate conditions during the 21st century, and past and future conditions of sea level and coastal flooding.
Click on the above link to view a list of publications that focus on the weather and climate of a particular state or region. Included are 164 references for 42 states! The earliest is from 1847.
Examine a century's worth of weather observations from locations around the state.
Frequently Updated Climate Data
Latest News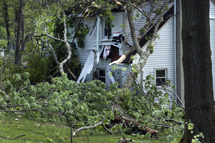 Tree and home damage in Stanhope (Sussex County) on May 29th following an EF1 tornado on the previous evening. Photo by Michael Mancuso/NJ Advance Media.
Frequently Wet: May and Spring 2019 Recaps
Dr. David A. Robinson
June 5, 2019
As was seen earlier this spring, rainfall was quite persistent during a good portion of May. However, unlike April, it was not just a matter of frequency but ultimately, quantity that made for soggy conditions in the fifth month of 2019. The statewide average precipitation was 6.70", which is 2.71" above the 1981–2010 mean. This made for the 9th wettest May since records commenced in 1895. The northern half of NJ was wettest, averaging 8.69" (+4.35"), making it the 3rd wettest on record. Only May 1989 (10.13") and 1984 (9.79") saw more rain. The south averaged 5.52" (+1.72"), ranking 17th wettest.
Based on observations from 62 NJWxNet stations, there were only two calendar days (22nd and 25th) without measurable (0.01") rainfall at any location. Three days saw a maximum of 0.01"–0.10" at one or more stations, nine with a maximum between 0.11"–0.25", and eleven topping out from 0.26"–0.99", while on six days one or more station received an inch or greater.
The wet conditions were accompanied by above average temperatures. The 62.7° statewide average was 2.1° above the 1981–2010 mean. This ranked as the 19th mildest May on record (tied with 1985). However, it is only the 8th warmest May since 2004. Ten of the past 12 months have been above average.
More...
Past News Stories
Sandy Storm Overview