Latest from the NJWxNet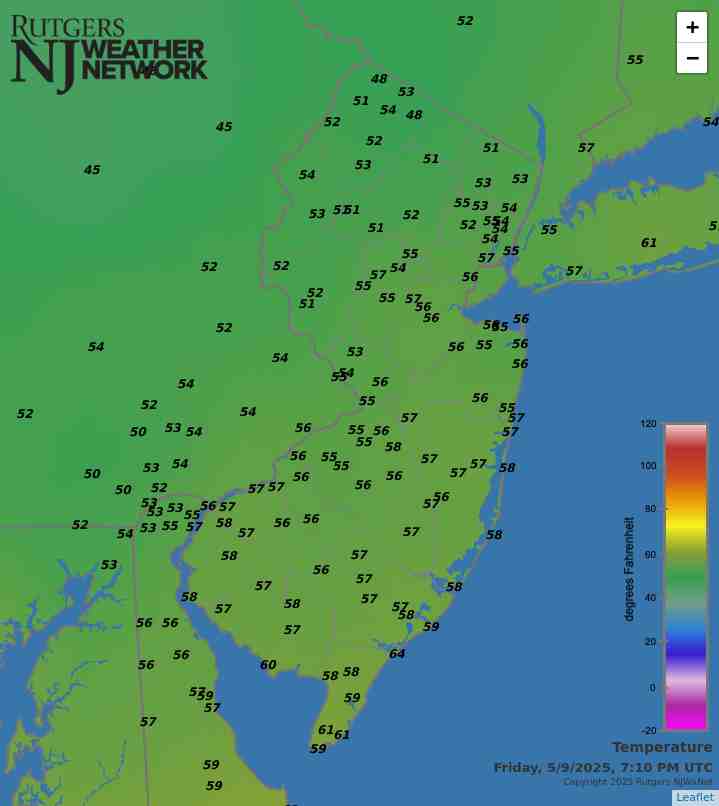 Latest temperatures across NJ appear in the above map. Click on the map or here, the Rutgers New Jersey Weather Network, for much more information.
Interested in becoming a volunteer weather observer? Click here to learn more about the CoCoRaHS Network!
Featured Products
Latest News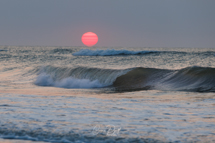 Wildfire smoke from western Canada contributed to a scenic sunrise on May 11 in Brigantine (Atlantic County). Photo courtesy of
Connie Pyatt Photography
.
Recap Triple Header
Smoke Gets In Your Skies: May 2023
Another Mild One: Spring 2023
Snow Totals: 2022/2023 Season
Dr. David A. Robinson
June 7, 2023
When the headline for this monthly report alludes to hazy May skies that were frequently overhead, you know it was a quiet period weather-wise across the Garden State. Such was the case during the middle two weeks of May and at month's end, with smoke from wildfires in western Canada frequently passing well overhead, followed by smoke from fires in Nova Scotia and a few in NJ. Otherwise, May temperatures were cooler than normal, and rainfall sparse.
The statewide average temperature of 59.3° was 1.9° below the 1991–2020 normal. This ranked as the 52nd coolest May since 1895. It was the coolest month compared to normal since January 2022. Following the third mildest April on record, May was only 4.0° milder than the previous month. This is the third smallest temperature difference on record between these two months. The average high temperature of 71.7° was 0.6° below normal, ranking 60th warmest and 68th coolest. The average low temperature of 46.9° was 3.3° below normal, ranking 26th coolest. The northern division averaged 57.8° (-2.1°, 50th coolest), the southern division 60.3° (-1.9°, 50th coolest), and the coastal division 59.6° (-1.4°, 63rd coolest).
More...
Past News Stories