Latest from the NJWxNet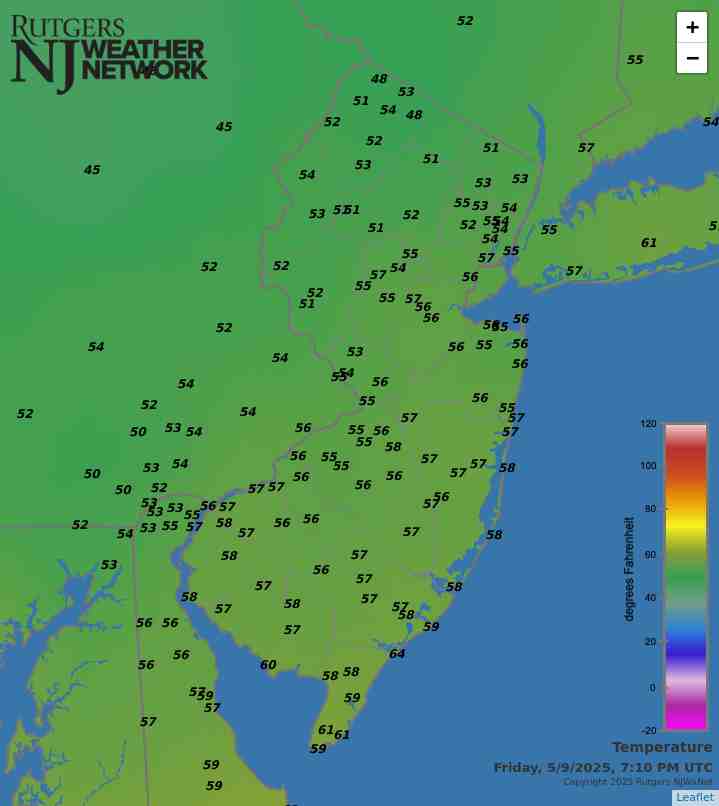 Latest temperatures across NJ appear in the above map. Click on the map or here, the Rutgers New Jersey Weather Network, for much more information.
Interested in becoming a volunteer weather observer? Click here to learn more about the CoCoRaHS Network!
Featured Products
Latest News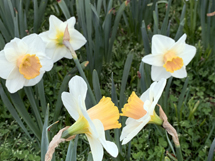 Daffodils chat with each other in the foreground on April 16th in Franklin Twp. (Somerset County), as two others eavesdrop in the background along with one that couldn't care less. Photo by Dave Robinson.
Consistently Inconsistent:
April 2022 Recap
Dr. David A. Robinson
May 7, 2022
As has been the case for the past several months, weather patterns have been reluctant to persist for more than several days to about a week. While climatologically rather common as winter transitions to summer, this season has seemingly been consistently inconsistent beyond the norm. April saw temperatures reach well into the 80°s on several days, followed a short time later by a hard freeze in most inland locations. Rainfall was above normal, more than twice so in the northwest, which is a reversal of the general pattern since late fall. Precipitation fell every few days, including multiple squally episodes that briefly delivered small hail, graupel, and bursts of snow at some locations. There was one event that brought some flash flooding and minor river flooding. Many residents are impatiently waiting for some mild conditions to lock in, getting summer underway. Patience….summer will arrive!
The good news is the rainfall that arrived quite often. Increasing concerns for drought encroaching on NJ were washed away by multiple storms that "performed" up to or exceeded expectations, something that was often not the case for multiple underperforming events in past months. Statewide rainfall averaged 5.10". This is 1.40" above the 1991–2020 normal and ranks as the 24th wettest April since records commenced in 1895. As the monthly map shows, the northwest was wettest and south driest, yet still above normal. The north average 6.34" (+2.44", 11th wettest), south 4.37" (+0.79", 32nd wettest), and coast 4.09" (+0.54", 42nd wettest).
More...
Past News Stories