Latest from the NJWxNet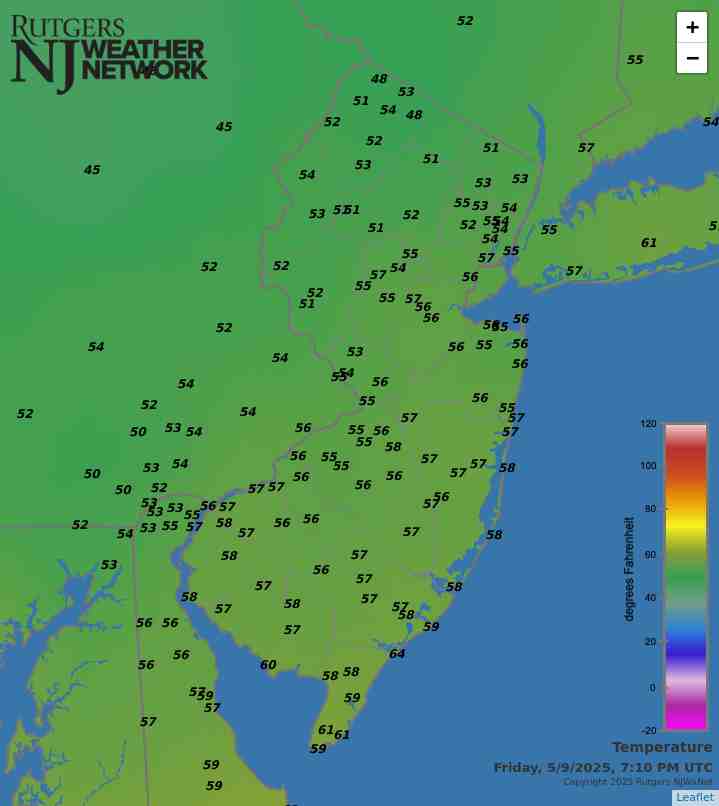 Latest temperatures across NJ appear in the above map. Click on the map or here, the Rutgers New Jersey Weather Network, for much more information.
Interested in becoming a volunteer weather observer? Click here to learn more about the CoCoRaHS Network!
Featured Products
Latest News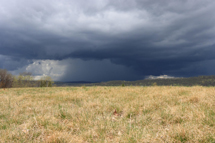 A vivid rain shaft accompanies a thunderstorm as seen from Hardyston Twp. (Sussex County) on April 15th, 2023. Photo courtesy of Yulia Karpova.
An Odd One: April 2023 Recap
Dr. David A. Robinson
May 8, 2023
What can you say about a month that began with a swarm of tornadoes, finished with flooding rain, and in between, featured record heat, wildfires, and increasing drought concerns? Best to say that it was an odd one! Fitting this theme, the statewide average temperature of 55.4° was 3.9° above the 1991–2020 normal. This ranks as the third warmest April on record (since 1895) only behind 2017 and 2010 for top honors. April was the fifth month of the past ten ranking in the top 10, joining July (#7), August (#1), January (#1), and February (#5). The first four months of 2023 come in as the warmest start of the year on record with an average of 44.4°. This exceeds the previous record of 44.2° in 2012, with seven of the 10 warmest January–April periods (1895–present) occurring since 2002. The average April maximum temperature across NJ was 67.4° (+4.7°, 3rd warmest) and the average minimum was 43.4° (+3.1°, 5th warmest). Northern counties averaged 53.5° in April (+3.6°, 5th warmest), southern counties 56.6° (+4.0, 2nd warmest), and the coastal zone 55.8° (+4.1°, 2nd warmest).
April precipitation averaged 5.84" across New Jersey. This was 2.14" above normal, ranking as the 10th wettest on record. It was the wettest April since 2007 and second wettest since 1983. All but scattered areas in the northwest received above-normal precipitation, the greatest amounts falling near the Atlantic and Delaware Bay coasts. Northern counties averaged 5.55" (+1.65", 26th wettest), southern counties 6.04" (+2.49", 7th wettest), and the coastal zone 5.94" (+2.39", 10th wettest). It is important to note that these totals and those for individual stations in the next section, do not include heavy rain that fell after standard early morning observation times at CoCoRaHS and National Weather Service Cooperative stations on April 30th. These rains were reported in morning observations on May 1st, thus will be included in May totals.
More...
Past News Stories