Latest from the NJWxNet
Latest temperatures across NJ appear in the above map. Click on the map or here, the New Jersey Weather Network, for much more information.
Interested in becoming a volunteer weather observer? Click here to learn more about the CoCoRaHS Network!
Featured Products
This state summary was produced to meet a demand for state-level information in the wake of the Third U.S. National Climate Assessment. The summary covers assessment topics directly related to NOAA's mission, specifically historical climate variations and trends, future climate model projections of climate conditions during the 21st century, and past and future conditions of sea level and coastal flooding.
Click on the above link to view a list of publications that focus on the weather and climate of a particular state or region. Included are 164 references for 42 states! The earliest is from 1847.
Examine a century's worth of weather observations from locations around the state.
Frequently Updated Climate Data
Latest News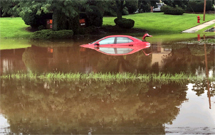 Flash flooding in Woodbridge (Middlesex County) on July 27th. Photo by Kaitlin Martin/NJ Advance Media.
Summer Personified: July 2018 Recap
Dr. David A. Robinson
August 3, 2018
July 2018 had a classic variety of summer weather. There was: 1) an ongoing heatwave to begin the month; 2) dry conditions for the most part in the first half of the month; 3) some warm, exceedingly humid conditions with widespread, at times heavy, showers the second half of the month (courtesy of the subtropics); and 4) some "top 10" sunny dry days following several cold front passages (thank you Canada).
The average statewide July temperature was 76.1°. This is 1.5° above the 1981–2010 average and ranks as the 15th warmest July in 124 years of records (2.3° above the full period of record average). Eleven of the 18 warmest Julys since 1895 have occurred in the past 20 years (since 1999). The average daily maximum temperature across the state was 86.8°, which is 1.8° above average and ranks as the 15th warmest on record. The 65.5° average minimum was 1.2° above the 1981–2010 average and comes in as the 20th warmest.
More...
Past News Stories
Sandy Storm Overview