Latest from the NJWxNet
Latest temperatures across NJ appear in the above map. Click on the map or here, the New Jersey Weather Network, for much more information.
Interested in becoming a volunteer weather observer? Click here to learn more about the CoCoRaHS Network!
Featured Products
This state summary was produced to meet a demand for state-level information in the wake of the Third U.S. National Climate Assessment. The summary covers assessment topics directly related to NOAA's mission, specifically historical climate variations and trends, future climate model projections of climate conditions during the 21st century, and past and future conditions of sea level and coastal flooding.
Click on the above link to view a list of publications that focus on the weather and climate of a particular state or region. Included are 164 references for 42 states! The earliest is from 1847.
Examine a century's worth of weather observations from locations around the state.
Frequently Updated Climate Data
Latest News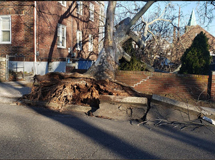 Strong winds on February 25th uprooted a tree in Perth Amboy (Middlesex County), which fortunately landed between two buildings. Photo by
Twitter user @buo01
.
A Little Bit of This and a Little Bit of That: February and Winter 2019 Recaps
Dr. David A. Robinson
March 5, 2019
The second month of 2019 across New Jersey was not one that will leave an indelible mark in the memory bank. Unlike some of the wild conditions that afflicted many other parts of the nation, NJ precipitation events were only minor to moderate, and there was nothing in the way of stream and river flooding. On several occasions, cold and warmth came and went rather quickly. There were no coastal storms, thus no significant tidal flooding or beach erosion. While there was one notable wind event, overall, rather calm conditions prevailed.
The statewide average precipitation (rain and melted snow) was 3.27". This is 0.47" above the 1981–2010 average and ranks as the 47th wettest February since 1895. The statewide average temperature of 34.8° was 1.3° above average, and ranks as the 26th mildest February of the past 125 years.
Snowfall averaged 5.3" across NJ. This is 2.7" below the long-term average and ranks as the 60th least snowy February since 1895. The south region, with 6.6" (+0.1") was snowiest, ranking 41st most snowy. The central zone caught 4.2" (-4.7"), ranking 42nd least snowy, while the north saw only 3.9" (-6.2"), ranking 32nd least snowy. The statewide seasonal total of 14.2" through February was 6.8" below average.
More...
Past News Stories
Sandy Storm Overview