New Jersey Hurricane Hunting: A brief recap of a small state's big hurricane history

Tom Karmel
ONJSC Undergraduate Intern
August 21, 2014
Season to date
With more than a third of the 2014 Atlantic hurricane season behind us, many may assume this season has been quiet. However, the two hurricanes already named mark the first time since 1992 that the first two named storms have reached hurricane strength and the first time there have been two hurricanes by this date since 2008. With the peak of the tropical season yet to come, the question is whether the heart of the season will be active or quiet. The National Weather Service's Climate Prediction Center recently updated their seasonal forecast, projecting only a 5% chance of an active season and 70% chance of a less than normal one. Still, it only takes one storm to seriously impact NJ, so we can never let our guard down. With this in mind, here is a brief history of memorable tropical cyclones affecting New Jersey and a summary of the frequency of storms through the hurricane season.
Historical storms
1903: The New Jersey Hurricane, or the Vagabond Hurricane as coined by Atlantic City press, is the last storm to make landfall in New Jersey as a hurricane (Irene [2011] was a tropical storm and Sandy [2012] turned extra-tropical shortly before landfall). The 1903 storm struck Atlantic City on the morning of September 16th with winds of 80 mph. There was one fatality in the Garden State along with 180 million dollars (2006 USD) damage a result of coastal flooding and strong winds.
1944: The Great Atlantic Hurricane, much as the Great Long Island/New England hurricane did in 1938, cut off one of New Jersey's coastal towns from the rest of the state, as a high storm surge blocked and damaged the causeways to Long Beach Island. The 1944 hurricane cut off the Brigantine Bridge to Atlantic City. This Great Atlantic Hurricane also damaged the famous Heinz and Steel piers in Atlantic City, and only the Steel was rebuilt.
1955: Tropical systems Connie and Diane brought severe flooding to NJ, particularly in the Delaware Valley. From August 12-14, Connie set the stage for Diane flooding by dropping 3-8 inches in much of NJ while moving to our west, with a peak of 10.89 inches at Canistear Reservoir. Diane passed directly through New Jersey on August 17-19. The storm dumped as much as 6.73 inches at the Charlotteburg Reservoir, and 2-4 inches along the Delaware River. The two storms resulted in 6 deaths in New Jersey and a damage total of approximately 400 million dollars (2013 USD). On the other side of the Delaware River, 107 lost their lives in Pennsylvania due to Connie and Diane. At the time, the duo of storms produced record heights along the Delaware River caused devastating flooding including 8.2 feet above flood stage at Belvidere and 8.6 feet in Trenton.
1960: Hurricane Donna skirted just east of New Jersey as a category 2 storm on the 11th and 12th of September, producing hurricane-like conditions on the coastline. Wildwood recorded a maximum wind gust of 100 mph. The only other tropical system to result in a wind gust over 100 mph is Gloria (1985) with 101 mph in Ocean City. Donna also dumped widespread rain of 3-5 inches across the state with a maximum of 8.99 inches in Hammonton. Donna ranks tied for fourth deadliest NJ tropical cyclone with 6 deaths and 11th costliest at just under $4 million (2013 USD).
1971: Despite only being a tropical storm, Doria ranks amongst the strongest tropical cyclones to hit New Jersey. Doria averaged 6.87 inches of rainfall throughout New Jersey, with a peak of 10.29 in Little Falls. A storm surge of 5.3 feet was recorded in Atlantic City. There were three deaths, and the storm caused $772 million (2013 USD) in damage. Doria impacted New Jersey from August 28-29, and even spawned a F2 tornado in Cape May County that traversed almost 29 miles before diminishing. That is the third longest track on record for a NJ tornado. It was also first of two times that one bride's special day was ruined by a tropical system.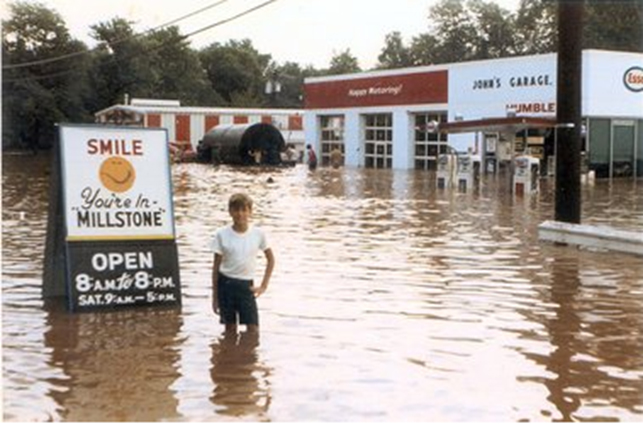 Flooding along the Millstone River in Millstone associated with Tropical Storm Doria in 1971.
1999: Floyd impacted New Jersey on September 16, categorized as a category 1 hurricane until that evening when it began moving very closely up to the NJ coast as a tropical storm. Floyd gave New Jersey its second highest single-location rainfall total from a tropical system with 14.13" in Little Falls (the tropical disturbance of August 1939 stands elite dropping 14.81 inches in Tuckerton). Floyd also produced the fourth highest recorded storm surge since 1950 with 7.36 feet in Cape May. Floyd produced severe river flooding, particularly in the Raritan River basin. Bound Brook registered at 14.1 feet above flood stage along the Raritan River and Manville topped out at 13.1 feet above flood stage, both records.
2011 and 2012: Irene and Sandy. Information on each of these storms can be found in the monthly reports for August 2011 and October 2012. More Sandy information is also available here.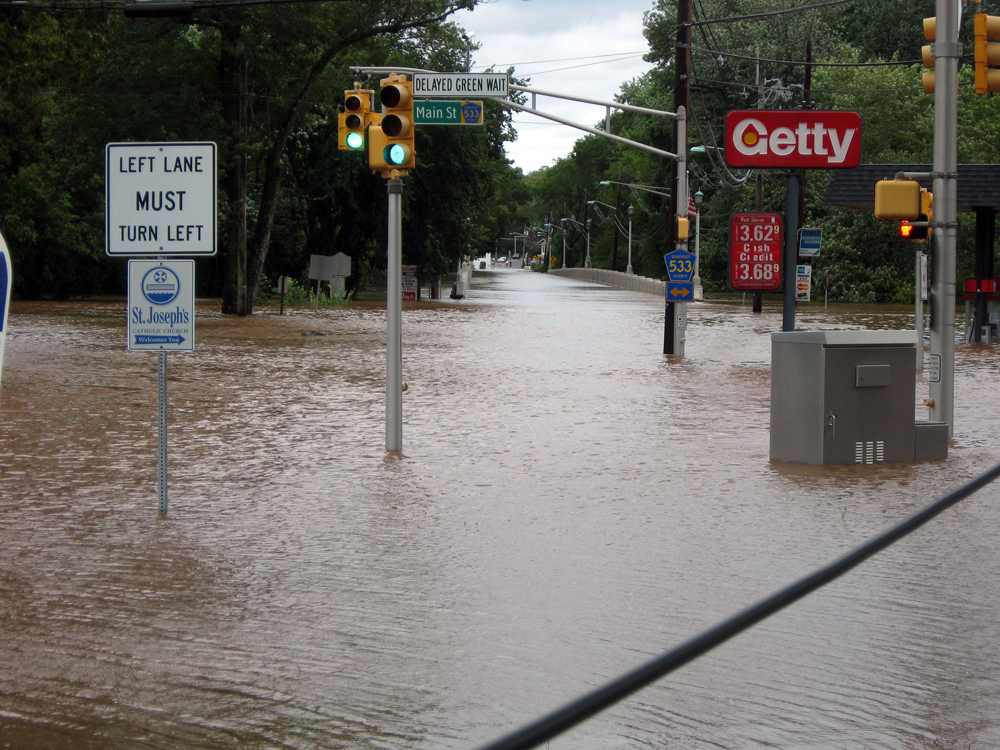 Flooding along the Millstone River in Millstone associated with Tropical Storm Irene in 2011.
Tropical system frequency
The 2014 Atlantic hurricane season has been relatively inactive so far, which is nothing out of the usual. The peak of hurricane season doesn't start till mid-August and extends till mid-October. Since 1950, only 23.4% of the named tropical systems have formed before August 15th. On average only 2.6 (or 2-3) storms form before that date each season. The bulk of a single hurricane season's storms has never formed before August 15th, but three seasons (1997, 1986, 1968) had half their storms form before that date.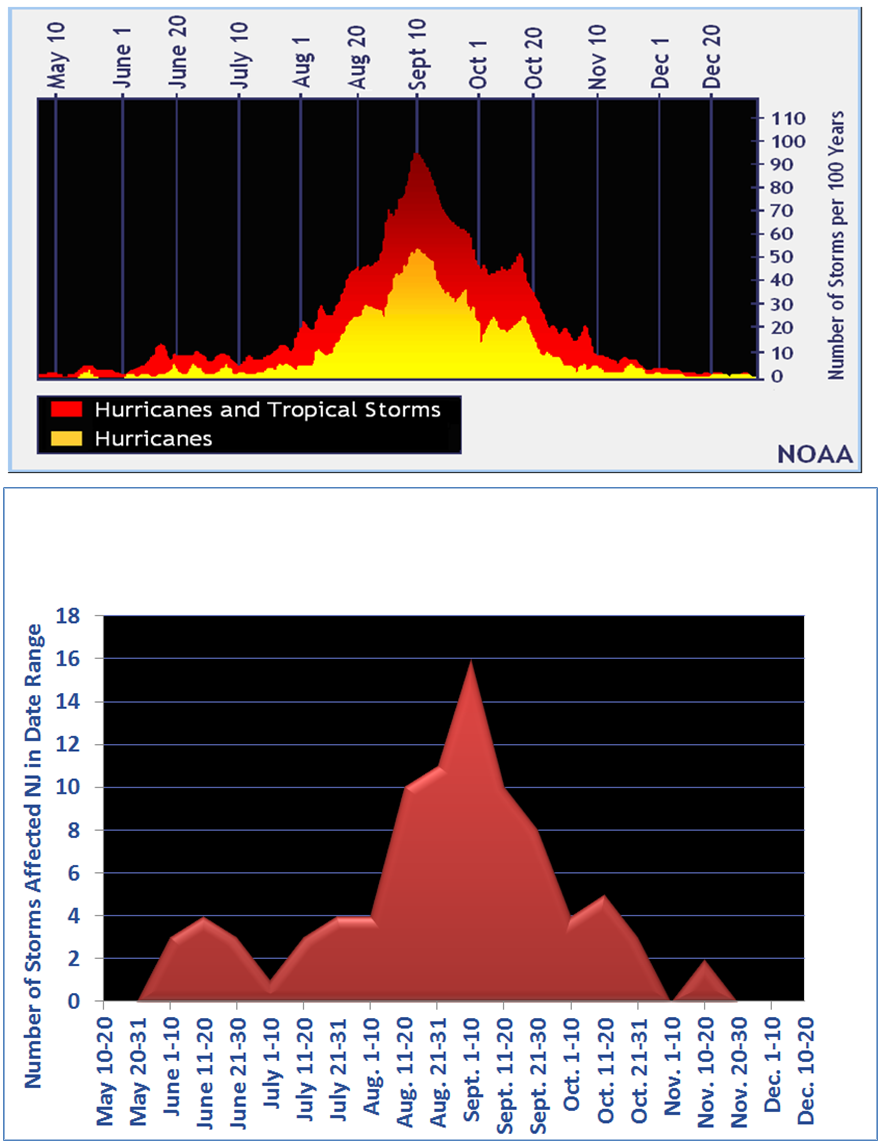 Calendar distribution of tropical storms and hurricanes impacting the Atlantic basin, adjusted to number of storms per 100 years (top). Calendar distribution of tropical systems (actual count of storms and hurricanes) impacting NJ since 1951 (bottom).
A busy, average, or inactive first couple of months of the season does not foreshadow the second half. 1984 didn't see a named tropical cyclone until August 28th, but that season ended with 13 named storms. While 1997 saw four named storms appear before the peak of the season, the season only ended with eight named systems. However, on average, seasons with busier early seasons tend to have more storms by the end.
As for New Jersey, the trend is almost identical to the overall frequency for tropical cyclones throughout the whole Atlantic seaboard. New Jersey tropical cyclone activity sees a small peak in mid-June as does the overall Atlantic before dipping in frequency throughout July. The build up to peak hurricane season is almost identical, but New Jersey's seems to peak earlier in September than the overall Atlantic peak. Since 1950, New Jersey has had four days with increased tropical activity than most other days. We've seen four tropical systems impact the Garden State on August 18th and 28th. September 1st, 7th, and 10th have had three cyclones pass through as well.
Final thoughts
With Arthur moving through our region in early July, New Jersey added its 93rd cyclone to the list of tropical systems to affect the area since 1950. It also marks the second year in a row the first named storm registered rainfall in the Garden State with Andrea in 2013. So as the tropics heat up for the peak of the season, there is always a chance to make it 94. For the latest on current and forecasted tropical cyclone activity, visit the National Hurricane Center's website.
For those seeking more detailed information on hourly, daily and monthly conditions, please visit the following Office of the NJ State Climatologist's websites:

NJ Weather and Climate Network
NJ Community Collaborative Rain, Hail and Snow Network
NJ Snow Event Reports
Interested in receiving our monthly summaries at the end of each month? Send us your e-mail address here to join the mailing list.
Past Climate Summaries