Latest from the NJWxNet
Latest temperatures across NJ appear in the above map. Click on the map or here, the New Jersey Weather and Climate Network, for much more information.
Interested in becoming a volunteer weather observer? Click here to learn more about the CoCoRaHS Network!
Featured Products
The Rutgers Climate Institute's inaugural report on the State of the Climate in New Jersey, which highlights information related to temperature, precipitation, and sea level rise for the state.
Click on the above link to view a list of publications that focus on the weather and climate of a particular state or region. Included are 164 references for 42 states! The earliest is from 1847.
Examine a century's worth of weather observations from locations around the state.
Frequently Updated Climate Data
Latest News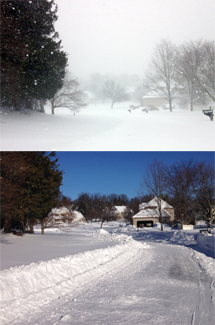 Snow in Hillsborough (Somerset County) on January 23rd (top) and January 24, 2016 (bottom), when 1.0–2.5 feet of snow fell over most of the state.
A Rather Quiet End to the Year: December 2016 Recap and Annual Summary, including the Top 10 Events of 2016
Dr. David A. Robinson
New Jersey State Climatologist
January 4, 2017
The atmosphere was in a progressive mode throughout December, which explains why no particular weather feature lingered in NJ or elsewhere across North America for too long. The seemingly day-to-day changes resulted in the statewide mean temperature of 36.4° being just 1.2° above the 1981–2010 normal. This ranks as the 28th mildest December since statewide records commenced in 1895, a far cry from last year's record mild conditions. Despite there being seven precipitation events, one of which was mainly a carry over from November 30th, the rapid movement of these systems meant that none deposited prodigious totals in NJ. Thus 3.37" fell, which is 0.48" below average. This ranks as the 55th driest December. Monthly statewide snowfall averaged 2.0". This is 2.1" below the 1981–2010 average and ranks 45th least snowy. The northern seven counties averaged 5.5", the central six counties averaged 1.8", and the eight southern counties 0.2", all below average.
More...
Past News Stories
Sandy Storm Overview