Latest from the NJWxNet
Latest temperatures across NJ appear in the above map. Click on the map or here, the Rutgers New Jersey Weather Network, for much more information.
Interested in becoming a volunteer weather observer? Click here to learn more about the CoCoRaHS Network!
Featured Products
This state summary was produced to meet a demand for state-level information in the wake of the Third U.S. National Climate Assessment. The summary covers assessment topics directly related to NOAA's mission, specifically historical climate variations and trends, future climate model projections of climate conditions during the 21st century, and past and future conditions of sea level and coastal flooding.
Click on the above link to view a list of publications that focus on the weather and climate of a particular state or region. Included are 164 references for 42 states! The earliest is from 1847.
Examine a century's worth of weather observations from locations around the state.
Frequently Updated Climate Data
Latest News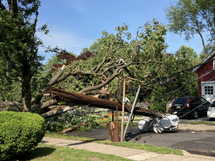 Strong winds from the June 3rd derecho took down a 190-year-old black oak in Haddonfield (Camden County). The massive tree totaled the home it fell on and caused a neighborhood power outage lasting around 72 hours.
Summer Arrives: June Recap (with a brief look at the first half of 2020)
Dr. David A. Robinson
July 7, 2020
The statewide average precipitation this June was 3.10". This is 0.91" below the 1981–2010 average and ranks as the 43rd driest of the past 126 Junes. As is typical during the warm season, where the bulk of the rainfall is provided by showers and thunderstorms, totals varied widely from location to location, even at times in close proximity to one another (Figure 1). Monmouth and northern Ocean counties saw the most, totaling over 5.00" in spots, with a secondary maximum in Gloucester County. The Highlands, portions of central NJ, and southern Ocean and Cape May counties saw as little as 1.00–2.00".
The statewide average temperature of 71.6° was 1.8° above the 1981–2010 normal. This ranks as the 10th warmest, joining four other years this century in the top 10, while being the warmest since 2011.
More...
Past News Stories
Sandy Storm Overview