Latest from the NJWxNet
Latest temperatures across NJ appear in the above map. Click on the map or here, the Rutgers New Jersey Weather Network, for much more information.
Interested in becoming a volunteer weather observer? Click here to learn more about the CoCoRaHS Network!
Featured Products
This state summary was produced to meet a demand for state-level information in the wake of the Third U.S. National Climate Assessment. The summary covers assessment topics directly related to NOAA's mission, specifically historical climate variations and trends, future climate model projections of climate conditions during the 21st century, and past and future conditions of sea level and coastal flooding.
Click on the above link to view a list of publications that focus on the weather and climate of a particular state or region. Included are 164 references for 42 states! The earliest is from 1847.
Examine a century's worth of weather observations from locations around the state.
Frequently Updated Climate Data
Latest News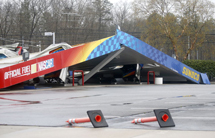 High winds on April 13 lead to the collapse of a gas station canopy in Egg Harbor Township (Atlantic County) to collapse. Photo by Tim Hawk/NJ Advance Media.
Blown Away: April 2020 Recap
Dr. David A. Robinson
May 5, 2020
If you have a sense that April was unusually windy, you are certainly not alone. While long-term wind observations are few across the Garden State and those available suffer from inconsistencies in instrumentation and location, seat-of-the-pants judgment tells us that plenty of air raced crossed the state throughout the month. In fact, the wind gusted to 40 mph or higher at one or more NJWxNet station on 12 days. Of those, seven had gusts from 50–59 mph and an impressive four gusted over 60 mph. The highest network gust of 76 mph occurred at Sea Girt (Monmouth County) on the 21st. There were also reports from other seemingly reliable stations of gusts as high as 82 mph at Island Beach State Park (Ocean) on the 13th.
April precipitation achieved a statewide average of 3.92". This is 0.07" below the 1981–2010 mean, but given the skewness of the distribution of April rainfall over the past 126 years, it ranks as the 45th wettest. Despite Morris County stations having the highest monthly totals, overall, the north part of the state was driest. The mean of 3.66" was 0.54" below normal and is the 59th driest (68th wettest). The south averaged 4.07", which is 0.21" above normal and is 40th wettest. The narrow coastal region averaged 4.16", which is 0.33" above normal and ranks 39th wettest.
More...
Past News Stories
Sandy Storm Overview