Latest from the NJWxNet
Latest temperatures across NJ appear in the above map. Click on the map or here, the New Jersey Weather Network, for much more information.
Interested in becoming a volunteer weather observer? Click here to learn more about the CoCoRaHS Network!
Featured Products
This state summary was produced to meet a demand for state-level information in the wake of the Third U.S. National Climate Assessment. The summary covers assessment topics directly related to NOAA's mission, specifically historical climate variations and trends, future climate model projections of climate conditions during the 21st century, and past and future conditions of sea level and coastal flooding.
Click on the above link to view a list of publications that focus on the weather and climate of a particular state or region. Included are 164 references for 42 states! The earliest is from 1847.
Examine a century's worth of weather observations from locations around the state.
Frequently Updated Climate Data
Latest News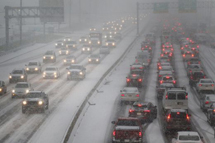 Snow slows traffic to a crawl on Route 46 in Totowa (Passaic County) during the afternoon of November 15. Photo by Chris Pedota/NorthJersey.com.
Winter Arrives Early, Record Wet Fall: November 2018 and Fall 2018 Recaps
Dr. David A. Robinson
December 5, 2018
November weather packed quite a punch, putting an exclamation point on what will go into the book as the wettest Fall (September–November) on record (since 1895). With seven storms that each deposited an inch or more of rain (or melted snow) at numerous locations, this was the second wettest November. The statewide average of 8.77" was 5.16" above the 1981–2010 average. The record will remain 9.01" in 1972.
One of the largest early-season snowstorms on record delivered significant impacts to all but southeastern NJ on the 15th. This event alone resulted one of the snowiest Novembers on record. Statewide, the monthly snowfall was 4.1", which is 3.3" above average and ranks as the 6th snowiest since 1895 and the snowiest since 1989. With 7.4" in the north (Sussex, Passaic, Bergen, Warren, Morris, Essex, and Hudson counties), it was the snowiest November since 1938 and 3rd most on record. Central NJ (Hunterdon, Somerset, Union, Middlesex, Mercer, and Monmouth counties) received 4.8" (+3.9"), the 5th snowiest on record and most since 2012. The south (Burlington, Ocean, Camden, Gloucester, Atlantic, Salem, Cumberland, and Cape May counties) averaged 2.0" (+1.4"), the 10th snowiest and most since 2012.
Following six consecutive months with above-average conditions, the statewide November temperature averaged 42.7°. This is 2.5° below normal and ranked as the 54th coolest of the past 124 years. All NJWxNet stations reached the freezing point for the first time in the season by November 12th. The biggest temperature story of the month was the exceptional cold on Thanksgiving (11/22), followed by record cold for so early in the season at some locations on the 23rd.
More...
Past News Stories
Sandy Storm Overview